29 August 2013
Japan's Air Water opts for Aixtron MOCVD system to develop GaN-on-SiC-on-Si
Deposition equipment maker Aixtron SE of Herzogenrath, Germany says that Air Water Inc of Azumino, Japan has successfully installed a fully automated Aixtron AIX G5 HT Planetary Reactor (in 8x6-inch configuration) for the MOCVD growth of GaN epitaxial layers.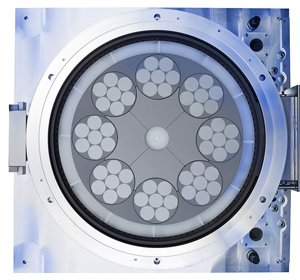 Picture: Aixtron's AIX G5 HT.
Following the installation, Air Water announced the release of gallium nitride-on-silicon carbide (GaN-on-SiC) on silicon substrates for this year. Furthermore, in order to address future market demand, Air Water is also considering upgrading the system to an Aixtron AIX G5+, which can handle up to 5x200 mm (8-inch) silicon substrates.
Compared to traditional silicon substrates, the additional SiC layer offers the advantage of protecting the Si substrate in the initial GaN nucleation process, says Air Water and Aixtron. Due to its crystal structure SiC is considered an ideal template for GaN growth.
Air Water is a Japanese industrial gas manufacturer and has developed SiC growth on silicon for both power device and LED applications as part of the semiconductor gas business. The firm has already produced high quality 3C-SiC (111) on up to 8-inch silicon substrates and has also announced the release of these products for GaN epitaxial growth required to manufacture electronic devices for LED and power electronic applications.
Tags: Aixtron MOCVD GaN-on-SiC
Visit: www.aixtron.com