8 April 2013
Plessey samples LEDs grown on 6" GaN-on-Si
Plessey Semiconductors Ltd of Plymouth, UK says that samples of its PLW111010 gallium nitride (GaN)-on-silicon LED products are now available.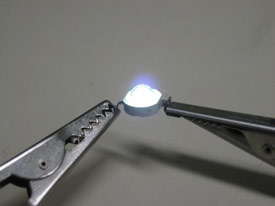 Picture: Plessey's new MAGIC GaN-on-Si LED product.
The entry-level products are claimed to be the first LEDs manufactured on 6-inch GaN-on-silicon substrates to be commercially available. Plessey is using its proprietary large-diameter GaN-on-Si process technology to manufacture the LEDs on its 6-inch MAGIC (Manufactured on GaN IC) line. Plessey says that the use of its MAGIC GaN line using standard semiconductor manufacturing processing enables yields of greater than 95% as well as fast processing times, providing what is reckoned to be a significant cost advantage over sapphire and silicon carbide (SiC)-based solutions for LEDs of similar quality.
The announcement of availability of Plessey's GaN-on-Si LEDs coincided with a visit to the Plessey Plymouth facility by the Rt. Hon. Dr Vince Cable MP, the UK government's Secretary of State for Business Innovation and Skills and president of the Board of Trade. "The government is supporting innovative companies like Plessey who are growing, creating jobs and exporting their products all over the world," commented Business Secretary Cable. "That's why we selected Plessey's £3.25m Regional Growth Fund bid for Government support, which will create 100 new, high-tech and highly skilled jobs in the region," he added.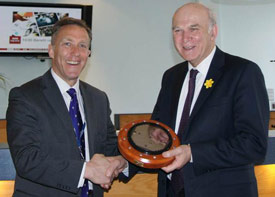 Picture: Plessey Semiconductors' CEO Michael LeGoff (left) and UK Business Secretary Dr Vince Cable MP (right).
"The department of Business Innovation and Skills has been very supportive of our efforts to date and, with the launch of our first range of LEDs today, we are now looking towards aggressive growth in the solid-state lighting markets," says Plessey's CEO Michael LeGoff.
"From acquiring our first MOCVD reactor [an Aixtron CRIUS II-XL] in August 2012 to having our first product in April 2013 is excellent progress," reckons Plessey's chief operating officer Barry Dennington. "These entry-level products will be used in indicating and accent lighting applications," he adds. "We will continue to make progress in output efficiency and are on plan to release further improvements in light output throughout this year and into next. The operating and unit costs are on plan and we are seeing a number of routes to enhance our cost advantage over competing technologies."
Tags: Plessey GaN-on-Si HB-LEDs
Visit: www.plesseysemiconductors.com/products/magic