9 April 2013
Philips and Optogan JV begins LED luminaire production in St Petersburg
Saint Petersburg governor Georgy Poltavchenko and Anatoly Chubais, CEO & chairman of RUSNANO (Russian Corporation of Nanotechnologies, a sovereign investment corporation based in Moscow, Russia), visited the St Petersburg site of LED chip and luminaire maker Optogan, where the joint venture 'Philips and Optogan' has started production of the new 'Avenue' LED luminaire. The maximum capacity of the line is more than 50,000 LED luminaries per year.  Founded in Helsinki, Finland in 2004 by Russian entrepreneurs and scientists from Ioffe Institute in St Petersburg, Optogan is a vertically integrated manufacturer of LED chips, components, lamps and lighting equipment for applications including general lighting. In addition to having an R&D facility in Helsinki, since founding Optogan GmbH in Germany in 2005 it has established epitaxy and chip R&D plus a pilot line in Dortmund and its Fab1 chip fabrication plant in Landshut. Also, after founding JSC Optogan in Russia in 2009, in 2010 it acquired an industrial facility in St Petersburg, where it has established LED component and luminaire production lines.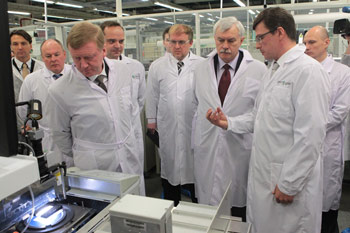 Picture: St Petersburg governor and RUSNANO CEO visiting Optogan's production site.
The new line is capable of producing LED luminaries for street lighting according to the highest international quality standards, energy efficiency and reliability, claims Optogan. The visitors to the plant were shown the new developments of 'Philips and Optogan' for street and yard lighting, which allow a significant decrease in energy consumption without any loss in light quality, it is claimed.
The Avenue LED luminaire fulfills the entire range of economic and technical requirements of the Saint-Petersburg Energy Efficiency Program, the firm says, adding that the launch allows 'Philips and Optogan' to offer the Avenue at a competitive price of 8000 rubles. Also, the firm's experience of interacting with design bureaus supports application of the JV's LED luminaries, it is reckoned. In particular, the new LED luminaires perform well even on A1-class highways, with lighting poles placed 65m apart and about 20m high.
Royal Philips Electronics and Optogan signed the joint venture agreement only in April 2012, with the aim of becoming a strong player in Russia's fast-growing LED road-lighting market. It took less than a year to launch the production line in St Petersburg. The JV combines Philips'latest LED road-lighting solutions and international quality standards with Optogan's LED expertise, solutions and understanding of local market requirements in this field.
Over the past year 'Philips and Optogan' has improved and developed its product portfolio regarding both economics and technology. In particular, compared with 2012, the price of the LED luminaries in 2013 has fallen by 30%, while their energy efficiency has risen by more than 10%.
Also as part of the visit, a cooperation agreement between St-Petersburg Government and Rusnano was signed to stimulate the demand for innovative products, including nano-products. In addition, the parties signed an action plan for 2013-2016. 
Tags: Optogan
Visit: www.optogan.com