2 April 2013
Osram introduces brighter and longer-lasting Topled LEDs for mass-transit interior lighting
Osram Opto Semiconductors GmbH of Regensburg, Germany says that its new generation of Mini Topled and Topled LEDs produces a pleasant white light in varying tones that is suitable for interior illumination of buses, trains, airplanes and cars. The standard packages for these LEDs have been retained (3.2mm x 2.8mm for the Topled and 1.8mm x 2.2mm for the Mini Topled), but they now contain chips in a new brightness class with properties that include durability, resistance to electrostatic discharge (ESD), improved corrosion stability and certification to the automotive industry standard AEC Q101.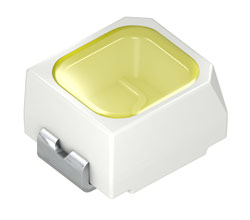 Picture: The new-generation Topled LED.
The new generation of Topled and Mini Topled LEDs has been tailored to the demands of public and private passenger transport for high-brightness and high-quality interior illumination. The light sources combine a pleasant white light with a much longer lifetime of up to 50,000 hours for increased durability.
The LEDs are low-power components that consume only 0.1W. Also, despite their low power, the new Topled LW TVSG produces a luminous intensity of 2400 millicandelas (mcd) at a color temperature of 6000K from an operating current of 20mA. From the same operating current, the new Mini Topled LW MVSG and LCW MTSG LEDs achieves a typical luminous intensity of 1700mcd at a color temperature of 4000K, and 1900mcd at 6500K.
Osram Opto says that the new generation of these two LED types benefits from further developments in chip and package technologies resulting in continual increases in light output. The firm adds that this is supplemented by its years of experience as a supplier in meeting the requirements of the automotive industry. These include the high electrostatic discharge (ESD) rating of 8kV and improved corrosion stability.
The new components are certified to the automotive supply industry standard AEC Q101 and meet the requirements that rail, road and air transport systems demand from components used for interior lighting. "LED light with different white tones helps create a feeling of well being without compromising brightness or durability," comments Mike Godwin, director, Visible LED at Osram Opto.
Tags: Osram
Visit: www.osram-os.com