23 April 2013
Osram supplements Duris family with higher-temperature LED for linear and area indoor lighting
Osram Opto Semiconductors GmbH of Regensburg, Germany has added to its Duris LED family with the S 5, suitable for indoor lighting (in retrofits, downlights or panel luminaires).
The Duris S 5's package is made from highly robust synthetic material that is resistant to aging caused by high temperatures and short-wave blue light. In contrast to LEDs in other package materials, the new Duris achieves a life-time of more than 35,000 hours even at a much higher ambient temperature of 105°C. "This innovative LED package makes the component robust and cost-effective," says Janick Ihringer, product manager marketing SSL. "This is then reflected of course in the luminaire manufacturing costs for our customers."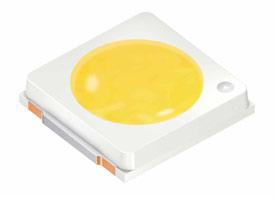 Picture: The new S 5 LED, which adds three brightness levels to the Duris LED family.
The main applications for the new Duris are retrofits and luminaires for both linear and area indoor lighting, as used in places such as offices, hotel lobbies and museums. The square footprint and the small round light-emitting surface translate into a compact arrangement in the lamp, says Osram Opto. This in turn means that the light can be efficiently coupled into secondary optics such as lenses and reflectors.
Three chip surfaces – three brightness and efficacy levels
The new Duris is being launched in three versions, all with correlated color temperatures (CCTs) of 2700–6500K but with different chip surfaces and hence three different brightness levels.
The ideal application for the first version (GW PSLPS1.EC) is wherever a large amount of light has to be emitted from a small surface area, e.g. in downlights and LED retrofits. At 3000K and a minimum color rendering index (CRI) of 80 it achieves brightness (luminous flux) of 97lm and a luminous efficacy of 101lm/W at an operating current of 150mA. Its optimized forward voltage of about 6V means that efficient driver solutions can be used that have a beneficial effect on the cost-effectiveness of the overall system, says the firm.
The second version (GW PSLMS1.EC) is designed for high luminous efficacy, achieving 125lm/W at 65mA with 24lm at 3000K. It is hence designed for use in panel luminaires and linear retrofits in which individual light points should not be visible and low energy consumption is an important consideration.
For these applications there is an alternative in the form of version three (GW PSLLS1.EC), which has only a slightly lower efficacy (113lm/W with a brightness of 28lm at 80mA, also at 3000K) and is designed for optimum system costs.
"The right LED for the particular design of luminaire can be selected, depending on whether high brightness, high efficacy or a good average of the two is required," says Ihringer.
The certification process for the high lifetime standard of LM-80 with 10,000 hour tests is already under way. An initial announcement is expected in early summer. 
Tags: Osram
Visit: www.osram-os.com/duris