19 April 2013
Evatec launches new website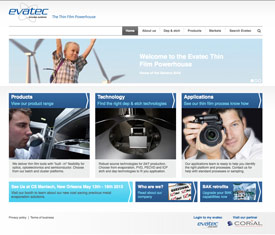 Evatec Ltd of Flums, Switzerland has introduced a new web site which the firm says makes it easier for customers to access information about its portfolio of thin-film platforms and processes.
Split into three main sections - Products, Technology and Applications - the website helps customers identify the right platform for their process and to learn about Evatec technology and process solutions for their applications.
Picture: Evatec's improved website design.
On-line brochures with a search facility for the site are designed to help customers access information quickly and efficiently
Tags: Evatec Electron Beam Evaporation Sputtering PECVD Etch
Visit: www.evatecnet.com