17 April 2013
Fry's Electronics stocks Ascent Solar's CIGS-based EnerPlex solar-integrated products
Ascent Solar Technologies Inc of Thornton, CO, USA, which manufactures lightweight thin-film photovoltaic modules based on copper indium gallium diselenide (CIGS) using flexible substrate materials, says that Fry's Electronics Inc, of CA, USA is now stocking Ascent's entire EnerPlex series of consumer solar-integrated products.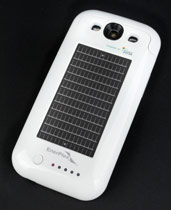 Picture: Surfr for Galaxy S III.
Fry's will stock Ascent's Surfr (a line of solar and battery integrated phone cases), Kickr (a line of portable solar chargers), and Jumpr (a line of portable batteries) at all of its 34 retail locations across nine US states.
"We view Fry's as a highly reputable, premier retailer providing the highest value to its discerning consumer base," says Ascent Solar's president & CEO Victor Lee. "Fry's is the perfect fit for the EnerPlex line of premium solar-integrated products which enable consumers to get the most out of their electronic devices when away from an outlet."
Tags: Ascent Solar CIGS
Visit: www.ascentsolar.com