26 April 2013
Aixtron's revenues and orders continue to struggle in Q1
For first-quarter 2013, deposition equipment maker Aixtron SE, Aachen, Germany has reported revenue of €40.2m, down 4% on €42m a year ago and 48% on last quarter's €77.5m.
| | | | | | |
| --- | --- | --- | --- | --- | --- |
| Fiscal | Q1/2012 | Q2/2012 | Q3/2012 | Q4/2012 | Q1/2013 |
| Revenue | €42m | €46.1m | €62.2m | €77.5m | €40.2m |
Against the backdrop of uncertain demand and considering the firm's technological progress, Aixtron's management has executed a further review of all inventories during the quarter and consequently decided on additional write-downs of about €43m.
Moreover, management has recorded restructuring expenses of €6.1m in conjunction with staff reductions in Germany that were initiated in co-operation with employee representatives. Between end-March 2012 and end-March 2013, Aixtron's staffing has fallen by 66 (7%) from 984 to 918, including Sales staffing down by 15 (17%) and Manufacturing & Services down by 44 (10%). Despite this, R&D staffing is still level on a year ago.
Aixtron commented that it "considers a strong R&D competence to be an important strategic factor in pursuing our technological leadership in MOCVD systems and securing leading positions in other future technologies". In Q1/2013, investments in R&D were stable at €16.6m (compared with €16.4m a year ago), while improvements in process efficiency have been initiated.
Aixtron said the restructuring measures are part of the recently initiated programs for cost optimization and efficiency improvement, especially in the areas of procurement, supply chain as well as product development. In addition, measures for product and process optimization have been initiated in conjunction with customers.
Due to the unusual items (i.e. restructuring costs and inventory write-downs totaling €49.1m), gross profit has fallen significantly from €10.3m a year ago and €17.7m last quarter to a loss of €47.7m. Consequently, net earnings before interest and taxes (EBIT) has worsened, from -€12.3m a year ago and -€43.2m last quarter to -€76m.
Due largely to new payments received from customers, cash flow from operating activities was €10.1m, compared with €7m last quarter and -€0.1m a year ago. Consequently, free cash flow was €9.3m, compared with just €1.8m last quarter and cash burn of €5.6m a year ago. Cash and cash equivalents hence rose during the quarter from €209.5m to €219.9m.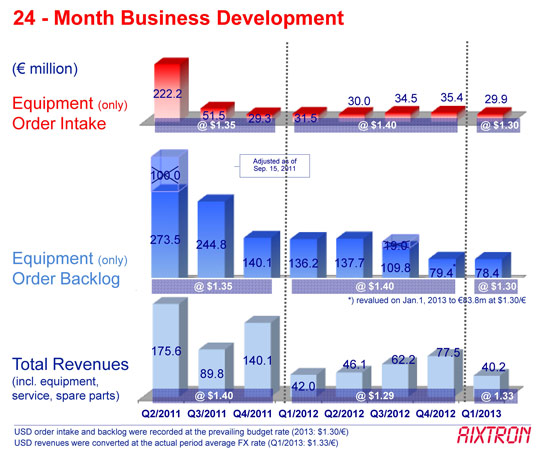 Against the backdrop of the subdued demand, Aixtron's equipment order intake remained low at €29.9m, down 5% on €31.5m a year ago and 16% on €35.5m last quarter (extending the 'trough level' of about €30m to six quarters now). As of end-March, total order backlog was €78.4m – only slightly below the backlog of €79.4m as of end-December 2012, but down 42% on €136.2m a year ago.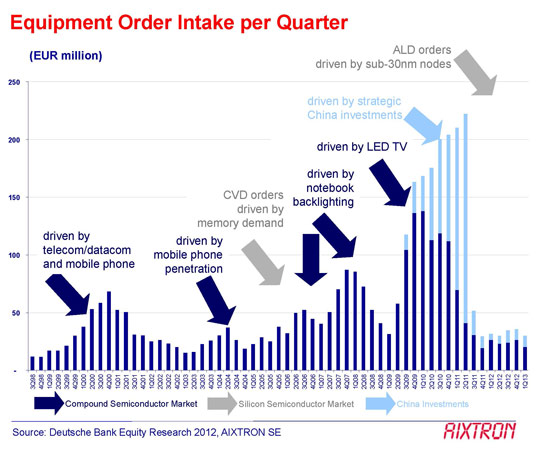 In its previous-quarter outlook statement (Q4/2012), Aixtron had warned that there remained "a high degree of uncertainty" about a possible order recovery. At that point, in February 2013, the firm was unable to give "precise revenue and EBIT margin guidance for the rest of 2013, due to the prevailing low visibility."
Aixtron now comments that, "The continued low level of order intake in the latest quarter is mainly attributable to the subdued demand for semiconductor deposition equipment," adding that, "despite further increases in capacity utilization rates at leading Taiwanese and Korean LED manufacturers, amongst others [to 75-90%], Aixtron has not seen higher capacity investments in the first quarter of 2013."
Although the company said it is currently experiencing an increase in customer inquiries, order development for 2013 remains difficult to predict. Given this ongoing low degree of visibility, Aixtron's executive board repeated that it is currently unable to issue any precise forecast for the company's revenues and EBIT margin in the current financial year.
Aixtron reports loss of €132m for 2012 as sales fall 63%
Aixtron's Q3 upturn not enough to avoid heavy 2012 loss
Aixtron records €51.5m inventory write-down due to slower-than-expected recovery in MOCVD demand
Aixtron's revenue rebounds by 10%; non-LED activities gaining traction
Aixtron's revenue falls 70% in Q1 as Asia slumps from 92% to 76% of sales
Visit: www.aixtron.com
Author: Matthew Peach, Contributing Editor