4 September 2012
EV Group launches next-generation EVG150 automated resist processing platform for compound semiconductors, MEMS, and advanced packaging
EV Group (EVG) of St Florian, Austria, a supplier of wafer bonding and lithography equipment, has introduced its next-generation EVG150 automated resist processing system. The high-volume coater/developer has been completely redesigned to provide customers with a flexible, modular platform that integrates spin coating and developing with EVG's advanced, proprietary spray coating technology.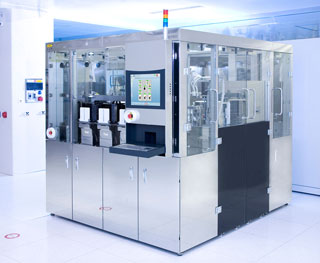 Picture: EV Group's EVG150 automated resist processing system.
"Close collaboration with our customers made it clear that the next logical step for our coater/developer technology was to create a universal approach for high-volume processing of devices with more complicated structures and topographies," said Markus Wimplinger, EV Group's corporate technology development and IP director. "This latest incarnation of our EVG150 system addresses customers' production needs for back-end lithography, conformal coating and planarization – all in one modular, fully automated platform. Leveraging EVG's 15 years of experience in resist coating and developing, and particularly our spray coating, the EVG150 is ideally suited for high-volume coater/developer applications needing increased uniformity and process flexibility."
Part of EVG's resist processing equipment family, which addresses all wafer sizes up to 300 mm, the EVG150 platform can accommodate wafers from 50 mm to 200 mm in diameter, and enables up to four wet process modules to be combined with two stacks of hot plates, chill plates and vapor prime modules. The system performs spin coating, developing, spray coating and lift off, and its modular structure helps minimize system downtime and improve serviceability, says the firm. Throughput is optimized via EVG's latest Computer Integrated Manufacturing (CIM) Framework software platform and unmatched process control.
EVG says that it currently has more than 100 customers implementing its proprietary OmniSpray technology, which is also integrated into the new EVG150 resist processing platform. EVG's OmniSpray technology allows the conformal coating of high topography surfaces via its proprietary ultrasonic nozzle. Spray coating technology is ideally suited for ultra-thin, fragile or perforated wafers. Additionally, the implementation of OmniSpray coating can result in a greater than 80% reduction in material consumption compared to traditional spin coating. Another available option for the EVG150 platform is EVG's NanoSpray technology, which is a patented coating technique that can coat surfaces with vertical sidewall angles thus, for example, enabling conformal coating of through-silicon vias (TSVs) with polymer liners and photoresist.
The modular EVG150 automated resist processing platform is available immediately for demonstration and evaluation.
EVG is exhibiting at SEMICON Taiwan (September 5-7, 2012), booth #1076.
Tags: EV Group Automated resist processing
Visit: www.evgroup.com/en