13 September 2012
Compound semiconductor component sales to grow at 11.9% from $27bn in 2012 to $47.5bn in 2017
Global sales of compound semiconductor-based components are expected to rise from nearly $25.5bn in 2011 to more than $27bn in 2012, then at a five-year compound annual growth rate (CAGR) of 11.9% to nearly $47.5bn in 2017, according to the report 'Global Markets and Technologies for Compound Semiconductors' (SMC032D) by BCC Research.
Sales in the Americas are expected to grow at a CAGR of 11.4% to nearly $5.2bn in 2012 and $8.8bn in 2017. Sales in the EMEA are expected to grow at a CAGR of 14% to nearly $8.5bn in 2012 and $16.4bn in 2017.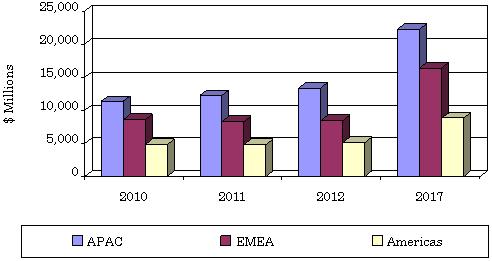 Sales of compound semiconductor components, by region, 2010-2017 (in $m).
According to the report, the greatest value of compound semiconductors is their variety and customization, comprising the prime ingredients of some of the most complex semiconductor components and playing a key role in manufacturing of lasers, optical components, LEDs, filters, mixers, power amplifiers, solar panels etc.
Compared with silicon, advantages include higher operating speed, lower power consumption, lower noise, higher operating temperature, light emission/detection, and superior photovoltaic attributes. These attributes also change from compound to compound, offering considerable design flexibility.
However, the variety of compounds works unfavorably in terms of scale and consequently pricing, notes BCC. Considering that these materials are pitted against silicon (the most widely available material with the most refined and cost-efficient fabrication process), there is a real danger of the competition being rendered lop-sided in favor of silicon.
However, it is not entirely accurate to compare and confine compound semiconductors to the benchmarks set by silicon, reckons the market research firm. With distinct characteristics of their own, compound semiconductors have spawned several applications that can be catered to only by them.
Visit: www.bccresearch.com