26 October 2012
Osram launches Oslon LX LED for subcompact automotive market
Osram Opto Semiconductors GmbH of Regensburg, Germany says that, with the Oslon LX, it is offering a new LED for widespread application in the automotive sector.
The focus is on the essential functions of brightness and quality, making the new white LEDs affordable even for installation in subcompact vehicles, the firm reckons. Oslon LX LEDs can be used mainly for daytime running lights (DRLs) and fog lights, providing visual and technical enhancements to automobiles from high-end down to the entry level segment.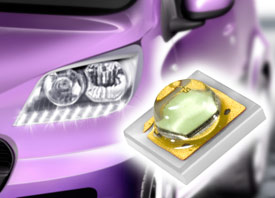 Osram Opto notes that experience has shown it always takes time before the price of high-tech applications fall to such an extent that they are practical for the mass market. The firm reckons it has now reached this threshold in LED automotive lighting. The new Oslon LX LED is based on the marriage between tried and tested package and converter technologies and new chip technology (UX:3) that offers high light output.
The firm says it has focused the Oslon LX LED on the essential objective of producing a large amount of light at an affordable price, suiting applications in which high light output and high energy efficiency are crucial factors – such as fog lights and daytime running lights. Low-beam and high-beam applications are also possible, but with a combination of several Oslon LX LEDs.
At a junction temperature of 25°C (in the chip), the LED produces 125 lumens from a drive current of 350mA. At a higher operating temperature of about 100°C, it achieves a luminous flux of 100 lumens. The maximum drive durrent is 1000mA. The typical correlated color temperature (CCT) is 6500K.
The LED's lens has a beam angle of 120°. It hence meets the established standard for reflector solutions in automobiles, and the systems used in the compact and subcompact segments can be retained. Also, the package is very compact, measuring only 3mm x 3mm, with a solder pad design that is identical to the other Oslon automotive components.
"The combination of high quality and low price means that LED designs can be introduced in many more vehicle classes," says marketing manager Michael Martens.
The Oslon LX is being showcased for the first time at electronica 2012 (booth 107 in hall A3) in Munich, Germany (13-16 November).
Visit: www.osram-os.com