4 May 2012
Veeco's revenue falls 27% in Q1, but MOCVD orders show modest rebound
For first-quarter 2012, epitaxial deposition and process equipment maker Veeco Instruments Inc of Plainview, NY, USA has reported revenue of $139.9m, down 27% on $191.7m last quarter and 45% on $254.7m a year ago, albeit at the top of the $115-140m guidance.
| | | | | | |
| --- | --- | --- | --- | --- | --- |
| Fiscal | | | | | Q1/2012 |
| Revenue | | $264.8m | $268m | $191.7m | $139.9m |
Of total Q1 revenue, 32% came from Data Storage revenue of $44.3m, up 40% on $31.6m last quarter (just 17% of revenue). The other 68% comprised LED & Solar revenues of $95.6m, down 40% on $160m last quarter (83% of revenue) and down 55% on $214.7m a year ago (84% of revenue). This included revenue for molecular beam epitaxy (MBE) systems of $14m. Revenue for metal-organic chemical vapor deposition (MOCVD) systems was $82m, down 45% on $150m last quarter and 60% on $204m a year ago. However, Veeco has claimed a 60% share of the MOCVD market in Q1 (continuing the rise from 29% share in full-year 2009 and 44% in 2010 to 51% in 2011, when it took the lead in the MOCVD market).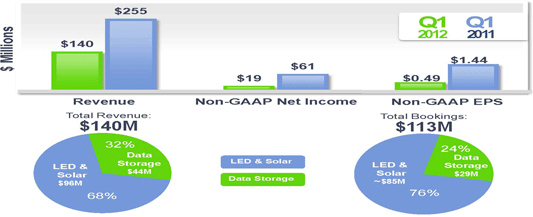 "We are experiencing growth in our Data Storage and MBE businesses, as well as in Services across all of our technologies," says CEO John R. Peeler. After growing to nearly $100m in full-year 2011, Services business reached a record $31m in Q1/2012.
"We are executing well during the downturn in MOCVD demand," comments Peeler. On a non-GAAP basis, gross margin has rebounded from 43.7% last quarter to 46.7% (above the expected 43-45%, but still down on 50.8% a year ago). Though still higher than the $43.8m a year ago, operating expenses have been cut from $48m last quarter to $44.3m.
Due to the rise in gross margin and the management of expenses, net income was $19m, down on $28.1m last quarter and $61.3m a year ago but up on guidance of $5.2-13.2m. Cash flow from operations was $42m (down on $57m last quarter). During the quarter, cash and short term investments rose from $492m to $524m.
"As anticipated, we experienced a weak bookings environment," notes Peeler. Total orders were $113.4m, down 21% on $143m last quarter and 51% on $230.9m a year ago.
Of total Q1 bookings, 26% came from Data Storage orders of $28.8m, down 62% on last quarter's record of $76m (53% of total bookings) as customer consolidation activity temporarily stalled capacity investments. The other 74% of bookings comprised LED & Solar orders of $84.6m, down 57% on $198.2m a year ago but up 26% on $67m last quarter (just 47% of total bookings). Of LED & Solar bookings, MOCVD orders were $70m, down 62% on $186m a year ago but up 19% on last quarter's $59m, with system orders from customers in Korea, China, Taiwan, Japan and North America (with the biggest sequential changes coming in Taiwan and Korea). MBE orders were $15m, up 71% on last quarter's $8m due to production orders from wireless customers. Nevertheless, overall during the quarter, order backlog fell from $333m to $305m.
"While MOCVD bookings grew modestly in the first quarter, we have not yet seen a clear inflection in customer buying patterns," notes Peeler. "LED customers remain cautious about capacity investment plans, and it is still unclear when the MOCVD market will recover," he adds. "Some positive signs are emerging, including increasing tool utilization rates in Korea, Taiwan [both about 80%] and China, and a pick-up in customer quoting activity."
For second-quarter 2012, Veeco expects revenue of $120-145m. However, although operating expenses will be steady at $43-46m, gross margin will fall to 44-46% and net income to $11.3-18.9m.
"Veeco is focused on keeping our infrastructure lean and discretionary costs low, while at the same time developing next-generation technology solutions to drive future growth," says Peeler.
"We are on track to deliver 2012 revenue of $500-600m," he adds, noting that Data Storage, MBE and Services business is providing a 'cushion' during the LED-induced pause in the MOCVD market (with Data Storage and MBE business collectively rising at a compound annual growth rate of 25%). In particular, with 400 MOCVD reactors due to go 'off-warranty' in 2012 (prompting the sale of extended warranty plans) and Veeco's Asia service centers enabling customer training and process development support – together with the new VCE (Veeco Certified Equipment) business re-selling refurbished tools with Veeco warranties – the Services business is targeting 40% revenue growth this year.
Longer term, recovery in the MOCVD market will be driven by LED lighting investments as well as growing sales for new applications (such as GaN power electronics), believes the firm. "Overall, we are seeing positive trends in LED lighting – lower prices [with LED bulb prices accelerating below $10 for 40W], more LED lamp products, and heightened consumer awareness. LED manufacturers are focused on how to position their businesses for growth as LEDs become the dominant lighting technology," says Peeler. "Despite the business decline in 2012, we firmly believe that the future MOCVD market opportunity will be larger than what we have experienced so far," he reckons. In particular, driven by the adoption of solid-state lighting, Veeco estimates the base range of total addressable market (TAM) for annual GaN LED MOCVD reactor shipments will rise from 460 units in 2013 to 760 units in 2016.
Veeco's revenue falls 28% in Q4/2011 due to MOCVD down 32%
Veeco's Q3 growth suppressed by slowdown in TV demand and China push-outs
Veeco's Q2 yields record orders as MaxBright comprises 40% of MOCVD orders
Veeco's revenue drops 15% in Q1 due to 'lumpy' order patterns
Veeco reports record quarterly revenue of $300m in Q4
Visit: www.veeco.com