15 May 2012
Eliot Parkinson appointed GM of IQE's Cardiff III-V facility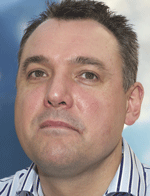 Epiwafer foundry and substrate maker IQE plc of Cardiff, Wales, UK has appointed Eliot Parkinson as general manager of its III-V facility in Cardiff. Parkinson takes over from Adrian Meldrum, who has been acting as interim general manager alongside his role as IQE group business development director.
Picture: Eliot Parkinson appointed general manager at IQE's III-V facility in Cardiff.
With more than sixteen years manufacturing experience in operations leadership and management roles within the semiconductor industry, Parkinson joins IQE from International Rectifier (UK), where he held the position of manufacturing director. He has also previously held a number of manufacturing and operational management roles at Intel's IC fabrication plant in Ireland, after serving twelve years as an aircraft propulsion systems engineer with the Royal Air Force.
Parkinson holds a BSc and a Post Graduate Professional Diploma in Management and is also studying part time for an MBA.
Tags: IQE
Visit: www.iqep.com