23 May 2012
Element Six opens its first US synthetic diamond plant in Silicon Valley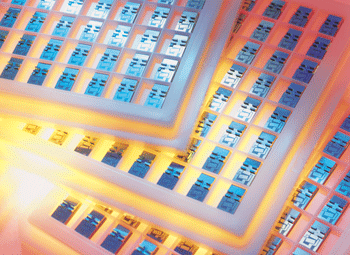 Luxembourg-registered Element Six (which is part of the De Beers Family of Companies and is co-owned by Belgian materials group Umicore) has opened its first US manufacturing facility in Silicon Valley (in Santa Clara, CA), as part of its business developing and producing synthetic diamond materials.
Picture: Synthetic diamond used in semiconductors can provide superior thermal management of high-power devices, lowering operating temperature and resulting in system size reduction and improved reliability.
The facility will house staff in the production, technical and customer service fields, and will serve to establish a direct connection to Element Six Technologies Division's customers and partners in the USA. The firm says that its continued expansion into the US market is in direct response to the growing demand and interest in synthetic diamond for commercial use in advanced technology applications.
Element Six says that technology developers using its synthetic diamond can benefit from its unique extreme properties, including unparalleled hardness, thermal conductivity, and optical and electro-chemical properties. For example, its thermal conductivity and electric insulator properties can result in step-change reductions in device operating temperatures, the firm adds. Other applications include enabling environmentally friendly water treatment systems, quantum computing, magnetometry and bio-medical sensors.
"As the pioneers of the commercial CVD diamond markets, we have the technical excellence, capabilities and track record to develop entirely new applications for synthetic diamond," claims CEO Cyrus Jilla. "With our new Santa Clara facility, we will build on our 25% year-on-year growth, and deliver innovative products which enhance productivity, reduce energy consumption and lower operational costs," he adds.
With more than 50 years of experience and substantial on-going investment in R&D, Element Six claims that its decades of process and material development experience give it unique insight into the properties of synthetic diamond and its applications. The firm also recently announced construction of the world's largest synthetic diamond materials R&D facility in Oxford, UK.
Tags: Element Six Technologies CVD Diamond
Visit: www.e6.com