18 May 2012
Axuntek CIGS frameless solar modules use DuPont PV5400 Series ionomer encapsulant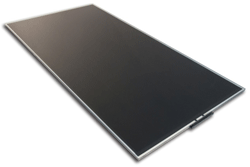 Axuntek Solar Energy Co Ltd of Pingtung City, Taiwan has announced its new IEC-certified copper indium gallium (di)selenide (CIGS) thin film solar cell modules, which use DuPont PV5400 series ionomer encapsulant.
Picture: Axuntek's new frameless IEC-certified CIGS thin film solar cell modules are enabled by DuPont PV5400 series ionomer encapsulants. Photo courtesy of Auntek Solar Energy Co Ltd.
Axuntek's frameless solar modules, which are the first adoption of DuPont PV5400 into CIGS technology, take advantage of the ionomer's clarity and low moisture ingress, which combine to create a highly efficient module with low cost due to the elimination of edge seal and frame. The frameless module allows higher density module shipments, reducing shipping costs.
"The performance level of the PV5400 encapsulant was a key factor in these frameless solar modules receiving IEC certification," said Ray Lin, sales and marketing manager, Axuntek. "CIGS technology offers the potential to reach higher efficiencies than other thin film technologies, and the choice of encapsulant is important to ensure the highest level of performance and long-term durability. DuPont PV5400 not only increases the modules' durability and production efficiency, but can significantly enhance their long-term power-generating efficiency."
The DuPont PV5400 Series offers excellent UV resistance and does not generate free acid under degradation conditions. As a thermoplastic, it does not require cross-linking and therefore has no peroxide or other degradation-inducing additives.
"The use of the DuPont PV5400 series ionomer encapsulants in CIGS modules demonstrates multiple benefits of the ionomer encapsulant's inherent qualities," said Penny Perry, global marketing manager, DuPont PV Encapsulants. "It provides strength to enable a frameless design, transparency for more design flexibility and ensures more power output over the life of the module."
Because it is up to one hundred times stiffer and five times stronger than traditional thin film laminating materials, DuPont PV5400 encapsulant minimizes module deflection and increases mechanical strength, says DuPont. The use of DuPont PV5400 can facilitate the design of modules for high strength applications, as well as meeting building codes for building-integrated window structures. Making use of the clarity of the ionomer/glass combination, the cell spacing can be adjusted to create "see-through" frameless modules.
Tags: DuPont CIGS CIGS solar modules
Visit: http://photovoltaics.dupont.com
Visit: www.dupont.com
Visit: www.axuntek.com