26 June 2012
SemiSouth installs P+E hydrogen purifier for SiC epi expansion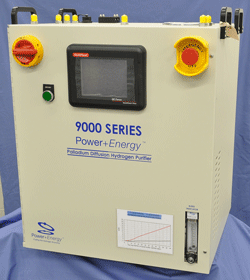 Power+Energy Inc (P+E) of Ivyland, PA, USA has provided a 9000MS Series hydrogen purifier to SemiSouth Laboratories Inc of Starkville, MS, USA, which designs and manufactures silicon carbide (SiC) devices for high-power, high-efficiency, harsh-environment power management and conversion applications. The purifier will be used to support a major capacity expansion at SemiSouth's SiC fabrication plant.
"We are very impressed by P+E's hydrogen purifier with the ease of operation and excellent purity," comments SemiSouth's senior equipment specialist Chris Myrick. "The compact purifier is a great fit for our MOCVD [metal-organic chemical vapour deposition] process," he adds.
The compact 9000MS Series purifier will purify liquid-source hydrogen for existing and additional MOCVD tools. The palladium hydrogen purifier has already produced improved process results after replacing a regenerable catalytic purifier. "Nitrogen and hydrocarbon contamination negatively affect our SiC epi process and we are pleased to see the improved results after installing the P+E palladium purifier to remove all impurities in our hydrogen supply," Myrick notes.
The 9000MS purifier uses patented micro-channel palladium membrane technology to remove all impurities to parts-per-trillion levels. P+E says that the durable, production-worthy hydrogen purifier that supports any flow rate and any inlet gas source quality. The compact design can be wall-mounted to provide ultra-high-purity (UHP) hydrogen for MOCVD epitaxial processes.
"SemiSouth is part of our growing customer base doing SiC manufacturing," says Stuart Bestrom, P+E's director of global sales. "P+E has been supporting customers in SiC processing for over 12 years, including many leading suppliers of SiC materials and epiwafers," he adds. "Many of these customers have purchased multiple systems as they have migrated and expanded their capacities from lab to production."
P+E says that hydrogen gas purifiers are critical to the rapidly expanding high-efficiency power devices industry, whether silicon carbide or gallium nitride. The firm says that its product lines, all based on its micro-channel Pd membrane technology, allow users to continue to employ the same technology in high-volume production, regardless of source gas quality.
Tags: SemiSouth Hydrogen purifiers SiC epi
Visit: www.powerandenergy.com