27 June 2012
Osram Opto's Oslon Signal blue LED boosts visibility for emergency vehicle lighting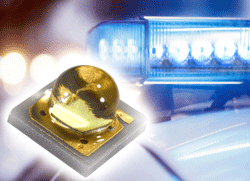 Osram Opto Semiconductors GmbH of Regensburg, Germany has launched the Oslon Signal LED, which uses special thin-film chip technology to provide powerful blue light. This enables much brighter signal lighting to enhance the visibility that is critical for police and emergency services vehicles. The LED can be operated at a high current and provides steady brightness even in the most demanding applications, the firm adds.
Picture: Oslon Signal LED for police and emergency service vehicles.
The Oslon Signal emits blue light with a wavelength of 472nm with luminous flux of 52lm at a drive current of 350mA. All color bins (groups) comply with the US and EU standards for signaling, in particular for emergency vehicle lighting. The Oslon family's package platform (which consists of a ceramic substrate with built-in connecting contacts and a silicone lens) remains stable and resistant to aging caused by the short-wave blue light.
The Oslon Signal incorporates the firm's UX:3 chips, which can operate at very high performance levels even at extremely high currents. This is a key aspect, says Osram, as blue signal light is often pulsed and therefore requires even greater luminous power at high current. Despite this, the LED measures just 3mm x 3mm and is equipped with an electrically isolated heat slug, so it can be mounted easily and conveniently in combination with a conventional FR4 board. In addition, the lens has a radiation angle of 80° and provides a highly symmetrical light output. The Oslon Signal can also be easily mounted in existing emergency vehicle lighting applications to provide significantly brighter signal lighting.
"Our development team has succeeded in a very short time in doubling the brightness of blue LEDs, resulting in our being able to offer the world's brightest product in this sector," says marketing manager Jennifer Rieder. "It significantly contributes to greater road safety, as emergency vehicles can be seen sooner and better."
The Oslon family of LEDs also includes other colors such as red, yellow, green and white. They all use the latest thin-film chip technologies, making them effective in a broad range of applications including emergency vehicle lighting, auxiliary signaling, warning beacons and other such applications.
Visit: www.osram-os.com