7 June 2012
Lake Shore featuring AC Hall-effect measurement system at EMC 2012
At the Electronic Materials Conference (EMC 2012) at The Penn Stater, Pennsylvania State University, State College, PA (20-22 June), Lake Shore Cryotronics Inc of Westerville OH, USA, which makes scientific sensors, instruments and systems for precise measurement and control, is exhibiting its new 8400 Series Hall-effect measurement system (HMS), along with its range of cryogenic and cryogen-free probe stations.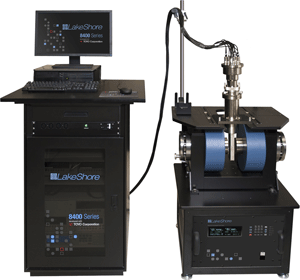 Also, senior scientist Dr Jeffrey R. Lindemuth is presenting on a Hall-effect measurement method that uses an AC magnetic field rather than the more traditional method that uses DC fields ('Sample Temperature Drift Effects in AC Field Hall Measurements', Paper Y3, 21 June, 2.10pm). The AC Hall-effect measurement provides better solutions for researchers exploring the electronic and magneto-transport properties of low-mobility electronic materials, says the firm.
Lindemuth will discuss how Lake Shore's 8400 Series Hall-effect measurement system, which features an optional AC field measurement capability, can measure Hall mobilities down to 10-3 centimeters squared per volt per second (cm2/(V s)). DC field techniques are generally limited to measuring mobilities of about 1cm2/V s in DC magnetic fields produced by conventional laboratory electromagnets. Applications for the system include measurement of solar cell materials, organic electronics, transparent conducting oxides (TCOs), III-V and III-VI semiconductors, and magneto-resistors.
Tags: Lake Shore
Visit: www.lakeshore.com