5 June 2012
Hanergy to acquire Q.CELLS' CIGS PV subsidiary Solibro
Q.CELLS SE of Bitterfeld-Wolfen, Germany, which manufactures both silicon and thin-film copper indium gallium diselenide (CIGS) thin-film solar photovoltaic (PV) modules, has signed an agreement for Beijing-based Hanergy Holding Group Ltd (China's largest privately owned provider of renewable energy) to acquire its thin-film subsidiary Solibro GmbH, which produces CIGS PV modules under the brand name Q.SMART.
Hanergy aims to reach a solar thin-film production capacity of 3000MW by the end of 2012. After exploring various available thin-film investment opportunities, Hanergy has decided to invest in the CIGS co-evaporation technology that Solibro has developed over the last 25 years.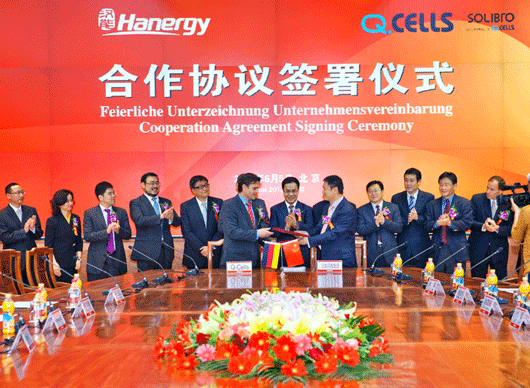 Picture: Jason Chow, CEO of Hanergy Global Investment & Sales Pte Ltd, and Q.CELLS' head of strategy Johannes Linde sign a co-operation agreement in Beijing to mark Hanergy's acquisition of Solibro.
The CIGS technology behind Q.SMART was developed in 1983 by the Ångström Solar Center at Uppsala University, Sweden, commercialized by the spin-off company Solibro in 2006, and acquired by Q-Cells in 2009. Q-Cells says that it has held the aperture-area efficiency record for series-produced thin-film modules since 2009 (currently 14.7%).
With 430 staff, Solibro has two factories with combined annual capacity of 135MWp in 'Solar Valley Thalheim', Germany, as well as an R&D centre in Uppsala. The firm has so far produced and sold more than 140MWp of Q.SMART modules (installed in roof-top and utility-scale projects for residential as well as commercial and industrial customers). However, in its 'Thin Film 2012-2016' report, GTM Research said that Solibro had paused production at its 35MW fab, and that in 2011 it produced 66MW of modules. Aiming to expand production and reduce costs to industry-leading levels, Q.CELLS had been looking for a suitable investor for Solibro.
Q.CELLS evaluated several potential partners that would be able to fully develop the potential of CIGS thin-film technology and make best use of its Thalheim-based facilities. After completion of the acquisition, Solibro aims to ramp up annual production to 100MW in Thalheim to supply Hanergy's European customers.
"With Hanergy as a partner, the potential of Solibro's CIGS thin-film technology and existing production capacity can be fully realized," says Q.CELLS' CEO Dr Nedim Cen.
Solibro's technology and manufacturing capacity, combined with Hanergy's PV strategy, has resulted in a fast and successful conclusion of the deal, the firms say. Moreover, Hanergy will not reduce Solibro's workforce or change its leadership. Operations will remain unaffected, as will its after-sales service provided to customers.
"This acquisition is not solely about consolidating our position on a global and competitive market. It is also about creating synergies between our two organizations in order to provide our respective customers with added value," says Hanergy's chairman Li Hejun.
"Solibro has a proven track record in thin-film CIGS technologies," comments Jason Chow, senior VP of Hanergy Industrial PV Group. "Hanergy will provide the extensive network, the strong production capacity and the long-term R&D investment," he adds. "The acquisition will enhance Solibro's performance and capacity despite the industry's current downturn."
Visit: www.hanergy.com
Visit: www.q-cells.com