4 July 2012
Seoul Semiconductor launches nPola LED technology to boost brightness 5-10 times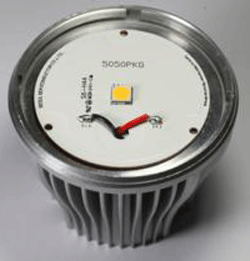 South Korean LED maker Seoul Semiconductor Co Ltd has unveiled a new LED product based on patented 'nPola' technology, which has been under development for over 10 years. The firm claims to be first to announce production of LEDs based on non-polar gallium nitride (GaN) technology. "This new product is the culmination of 20 years of core technologies development," says CEO Chung Hoon Lee.
Seoul Semiconductor says that the brightness of a power chip LED in mass production is currently about 100 lumens in warm white, but the new product produces 500 lumens. Brightness has hence been improved five-fold over the conventional LED based on equivalent die surface area. The firm expects that further improvements will increase this to more than 10 times existing LEDs. As an example, when making an LED bulb for a 60W household bulb replacement, typically 10-20 packaged LEDs are used, but by using the new product the same brightness can be achieved with only 1-2 packaged LEDs.
GaN LED pioneer Shuji Nakamura, a professor at the University of California, Santa Barbara (UCSB) and an advisor to Seoul Semiconductor, was also present at the launch event to comment on the new technology. Seoul Semiconductor subsidiary Seoul Optodevice Co Ltd has just awarded UCSB a $500,000 endowment, making professor of materials James Speck the first Seoul Optodevice Chair in Solid State Lighting.
Tags: Seoul Semiconductor LEDs GaN
Visit: www.seoulsemicon.com/en