26 July 2012
University of Magdeburg opts for Oxford Instruments' etch tool for HBLED and power semiconductor research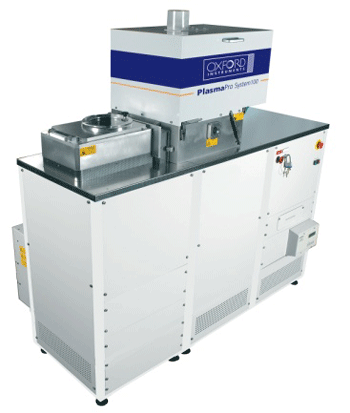 UK-based Oxford Instruments plc has received an order for a PlasmaPro System100 ICP180 etch tool from the Otto-von-Guericke University Magdeburg, Germany. The system will run GaN on Si etch processes to facilitate the university's power semiconductor and HBLED research.
Picture: PlasmaPro System100 ICP180 etch tool
GaN on Si offers a step change in technology for the HBLED and power semiconductor device markets. Through lower cost and larger diameter substrates the overall cost of devices can be dramatically reduced. Etching forms a vital part of the device manufacturing process and with the PlasmaPro100-ICP180 high etch rate and low damage, results are guaranteed.
Prof. Dr. Alois Krost from University Magdeburg said, "In the past few years research at the university has gone through a decisive change from applied to innovative pure research. As the use of HBLED and power devices continues to grow, these technologies play an important role for improving the environmental impact of global energy and power consumption. We chose the Oxford Instruments tool for our research because of the excellent technical specification and well founded reputation of the processing tools backed up by expert specialist support."
"Oxford Instruments' large Process Applications and Technology teams constantly research to innovate and offer new processes on our portfolio of advanced plasma etch and deposition processes and techniques. By constantly focusing on our customers' current and future needs, Oxford Instruments is able to provide leading process solutions. As an exciting area of research, GaN on Si fits perfectly with our philosophy of excelling in developing research and then driving the technology to production", said Mark Vosloo, Sales, Marketing and CS Director at Oxford Instruments Plasma Technology, "The company is committed to meeting our customers' needs through advanced technology and service, and use innovation to turn smart science into world class products."
Tags: Oxford Instruments Etch
Visit: www.oxford-instruments.com