11 July 2012
Oxford Instruments launches latest PlasmaPro 100 system for both production and R&D users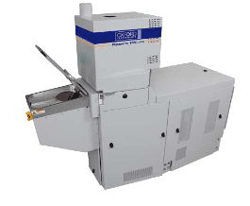 UK-based Oxford Instruments plc has launched its latest-generation PlasmaPro 100 etch and deposition tool. Suited to key market applications including micro-electro-mechanical systems (MEMS), high-brightness (HB)-LEDs, semiconductor electronics, failure analysis, and photovoltaics, the system has been developed to address the exacting needs of production users demanding not only the latest technological innovations but also customer support.
Oxford Instruments says that the latest system offers:
an evolution of plasma-enhanced chemical vapor deposition (PECVD) hardware delivering step changes in deposition rate of high-quality SiO

2

and SiN

x

, with corresponding reductions in cleaning overhead;
the latest generation of the Cobra ICP source, which delivers improvements in etch rate and feature control capability;
industry-recognized robotic handler and capability, strengthening the firm's position as a supplier of 'plug and play' hardware and optimized processes; and

enhanced system control infrastructure and software interface that delivers improved diagnostics, reliability and serviceability.
Providing a common platform for all Oxford Instruments Plasma Technology's processes and technologies, the PlasmaPro 100 is a highly configurable system, with process chambers available as standalone modules or in cluster configurations.
"All our tools boast industry-leading technology and automation that are well proven with over 90% uptime," claims senior product manager Ian McKinlay. "This latest product release offers genuine process improvements delivering excellent uniformity and high-throughput processes on a range of applications," he adds, noting that users have access to the firm's exclusive library of over 6000 process recipes, built up over 25 years, as well as comprehensive backup.
Tags: Oxford Instruments
Visit: www.oxford-instruments.com