13 February 2012
University of Illinois' James Coleman elected to National Academy of Engineering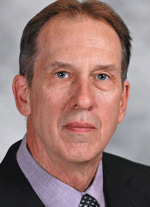 Photonics and semiconductor laser pioneer James J Coleman (the Intel Alumni Endowed Chair in Electrical and Computer Engineering and a professor of materials science and engineering at the University of Illinois) is one of 66 people newly elected to membership of the US National Academy of Engineering (NAE), along with new 10 foreign associates (joining the existing 2254 members and 206 foreign associates, distinguished by outstanding contributions to the fields of technology and engineering).
Picture: James J Coleman.
Coleman, a researcher in the Micro and Nanotechnology Lab and the Coordinated Science Lab, was cited for his work in semiconductor lasers and photonic materials. His research focuses on materials for optoelectronics. Having helped to develop metal-organic chemical vapor deposition (MOCVD), as the director of the Semiconductor Laser Laboratory at Illinois he oversees research using MOCVD growth of III-V semiconductors to explore applications in lasers, quantum dots and other optical structures.
"Dr Coleman's research has added considerable knowledge to the field of semiconductor lasers and photonic devices, and his many successful patents and contributions to the engineering literature remain a testament of those achievements," comments Ilesanmi Adesida, dean of the College of Engineering. "He is also an Illinois alumnus, so we are doubly proud of his achievements."
Coleman earned his bachelor's, master's and doctoral degrees in electrical engineering from the University of Illinois. He worked at Bell Laboratories and Rockwell International before joining the faculty in 1982. He has published more than 400 journal articles and holds seven patents. Coleman is a fellow of the Institute of Electrical and Electronics Engineers (IEEE), the Optical Society of America (OSA), SPIE (the international society for optics and photonics), the American Association for the Advancement of Science (AAAS), and the American Physical Society (APS).
Also among the new members and foreign associates announced by the NAE was Illinois engineering alumnus Supriyo Datta (MS 1977, PhD 1979, Electrical Engineering), who is the Thomas Duncan Distinguished Professor of Electrical and Computer Engineering at Purdue University in West Lafayette, Indiana (cited for "quantum transport modeling in nanoscale electronic devices").
Tags: MOCVD Lasers Quantum dots
Visit: www.ece.illinois.edu