13 December 2012
TriQuint's filters capture 4G smartphone design wins
RF front-end component maker and foundry services provider TriQuint Semiconductor Inc of Hillsboro, OR, USA, has gained design wins for its new high-performance acoustic wave filters in 4G smartphones from manufacturers including Samsung, LG, HTC and Motorola Mobility.
LTE deployments are driving demand for high-performance filters in multiband smartphones, says the firm. High-end smartphones house a growing number of cellular and Wi-Fi bands to support 2G/3G/4G voice and data services, as well as global roaming. In addition, the global spectrum crunch is leading governments around the world to squeeze new bands for 4G wireless services next to pre-existing bands, often with minimal guard bands. Advanced filter technology is needed to mitigate the resulting interference issues.
"Our customers count on TriQuint to solve their toughest filtering challenges," says Tim Dunn, VP of Mobile Devices. "We've achieved significant advancements in acoustic wave technology, thanks to three decades of filter innovation and our extensive manufacturing expertise. We're one of the very few high-volume suppliers that can meet the demanding performance requirements for the most stringent LTE filter bands. In the years ahead, deployments of next-generation LTE Advanced will spur even more demand for TriQuint's high-performance filters to reap the benefits of carrier aggregation."
Filters, duplexers and switches account for nearly half of the total $6.4bn RF market, says TriQuint. As LTE networks continue to deploy, passive content in smartphones, tablets and other mobile devices will continue to grow. To supply the growing demand, TriQuint increased manufacturing capacity by 40% in 2011.
"The market for RF duplexers alone will reach $2.5bn in 2016," says Yoshiyasu Andoh, president of market research firm Navian. "The wide use of WCDMA and increasing number of LTE bands is driving demand for duplexers at a significant rate. As RF complexity increases, we expect to see further integration of passives components such as filters and duplexers with active components like power amplifiers and switches."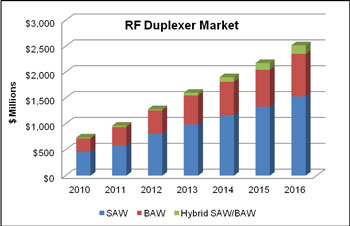 Graphic: The RF duplexer market for cellular terminals will reach $2.5bn in 2016, driven by the growth of WCDMA and deployment of LTE networks. (Source: Navian Inc.)
Demand for high-performance filters is growing rapidly, as LTE networks deploy and Wi-Fi becomes ubiquitous. New 4G frequency bands are usually assigned next to pre-existing bands for Wi-Fi and Bluetooth services, often with minimal guard bands. TriQuint's bulk acoustic wave (BAW) and temperature-compensated (TC-SAW) technologies help enable simultaneous voice and data for 4G smartphones that operate on many different frequency bands, often in multiple regions of the world, says the firm.
SAW filters are well suited for most frequencies up through 1.9GHz, such as standard GSM, CDMA, and 3G bands. Some new 3G and 4G WCDMA duplexers and filters are best served by TC-SAW, which reduces temperature drift for more challenging specifications. For example, TriQuint uses TC-SAW to support Band 13, Band 20 and Band 26 duplexers.
BAW is ideal for many of the new LTE bands above 1.9GHz, delivering superior performance with lower insertion loss, steeper slopes and excellent rejection. BAW excels in applications where the uplink and downlink separation is minimal and when attenuation is required in tightly-packed adjacent bands, says the firm. TriQuint harnesses the advantages of BAW technology to serve the following bands: Band 3, Band 7, Band 25, Band 38, Band 40 and Band 41, as well as Wi-Fi co-existence filters.
Tags: TriQuint Filters SAW BAW
Visit: www.triquint.com