30 August 2012
Chalmers' professor Anders Larsson wins HP Labs' Innovation Research Award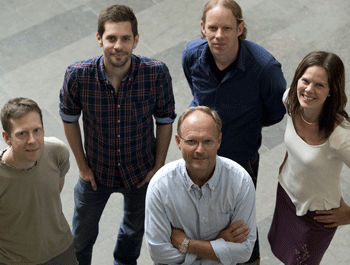 Professor Anders Larsson of Sweden's Chalmers University of Technology is one of 61 university professors in 46 institutions worldwide selected from more than 500 proposals for a 2012 HP Labs Innovation Research Award. He has been awarded for work on 'High Contrast Grating VCSELs for WDM Computer Interconnects' in collaboration with Dr Michael Tan and his group at the Intelligent Infrastructure Lab at HP Labs. The project also involves the Chalmers researchers Johan Gustafsson, Åsa Haglund, Jörgen Bengtsson and Erik Haglund.
Pictures: Researchers involved in the project: Jörgen Bengtsson, Erik Haglund, Anders Larsson, Johan Gustafsson and Åsa Haglund. (Photography: Peter Widing.)
HP Labs' Innovation Research Program (IRP) is designed to create opportunities at colleges, universities and research institutes around the world for collaborative research with HP.
The vertical-cavity surface-emitting laser (VCSEL) is the primary light source for short-reach optical communication because of high efficiency, high-speed properties, efficient coupling to optical fibers, and low manufacturing cost. VCSELs are produced in high volume for high-capacity optical interconnect cables in storage area networks (data-centers) and high-performance computing systems (computer clusters, supercomputers etc). In the near future, high-speed optical cables with VCSEL-based optical transmitters are also expected to make their debut in consumer electronics (Thunderbolt, USB, HDMI, etc).
For computing applications, the small footprint and high modulation speed of VCSELs enable very high-density and very high-capacity interconnects. To increase capacity beyond what can be provided by a single channel, space-division multiplexing (parallel fiber ribbons or multicore fibers) or wavelength-division multiplexing (WDM) can be used. WDM, which requires monolithic multi-wavelength VCSEL arrays, enables optical interconnect architectures that offer more complex interconnect topologies and routing schemes. It also enables the interconnect network to adapt to irregular and time varying traffic patterns.
The project aims to develop a VCSEL technology whereby the wavelength of individual VCSELs can be set in a post-growth fabrication process, enabling the realization of low-power-consumption, high-speed, multi-wavelength VCSEL arrays for future WDM interconnects in computing systems.
Tags: Anders Larsson VCSELs
Visit: www.hpl.hp.com/open_innovation/irp/2012_results.html
Visit: www.chalmers.se