13 April 2012
Osram's Duris P 5 LED enhances corrosion stability and lifetime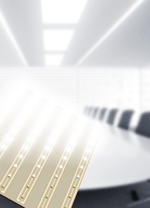 Osram Opto Semiconductors GmbH of Regensburg, Germany has launched the Duris P 5 LED, which offers a luminous efficacy of up to 110lm/W (at 100mA, 3.0V and a color temperature of 3000K) and an average lifetime (at a forward current of If = 200mA and a junction temperature of TJ = 125°C) of more than 50,000 hours (L70/B50), even at high currents and temperatures. Luminous flux (3000K) is up to 33lm at 100mA and up to 56lm at 200mA. Available color temperaturess are 3000K, 4000K and 5000K (further color temperatures will follow this Spring). The minimum color rendering index (CRImin) is more than 80.
Luminaires in the professional sector - for both indoor and outdoor lighting - are increasingly being equipped with LEDs, says Osram Opto. In the process, luminaire manufacturers are placing particular importance on durable, efficient and high-quality LEDs. "The demand for high-quality and robust light-emitting diodes will continue to increase in the future," says product manager Christian Neugirg. "The Duris P 5 represents a leap in innovation, in particular owing to its minimal error rate during long-term use," he claims.
With a radiation angle of 130°, the Duris P 5 enables homogenous illumination without any noticeable individual points of light. As luminaires typically contain more than 100 mid-power LEDs, a low failure rate of the LEDs used is of particular importance to ensure high luminaire quality throughout their lifetime, notes Osram Opto.
Supplied in a 2.6mm x 2.2mm package, the LED is also claimed to be the first of its kind on the market for medium-power classes with particular resistance to adverse environmental conditions. Long-term tests with corrosive gases such as sulphur or chlorine cause no harm to the LED, while inducing no significant luminous flux decrease, says the firm. Nor did long-term tests under sauna-like conditions (with considerable temperatures and high humidity levels) have any adverse effect on the LED.
Increased corrosion stability is not only a key factor when used for outdoor applications. The new LEDs are suited to linear and area luminaires (found in offices, shops and billboard lighting), and LEDs are also exposed to corrosive influences when used indoors, e.g. from circuit board materials, rubber seals or adhesives etc. Increased corrosion resistance hence provides an additional guarantee for the durability of professional lighting.
With the Duris P 5, luminaires no longer need hermetic encapsulation to protected against corrosion, says Neugirg. "Thus the manufacturers of luminaires save costs on the entire system," he adds.
Visit: www.osram-os.com