5 April 2012
Lumileds launches its first white illumination mid-power LEDs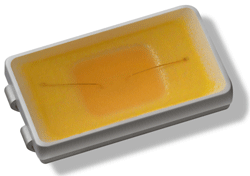 Philips Lumileds of San Jose, CA, USA launched its first white, mid-power LED, raising expectations for mid-power reliability, performance over time and temperature, and color maintenance, it is claimed. Intended for office and other distributed LED lighting solutions, The firm uniquely specifies correlated color temperature (CCT), color rendering index (CRI), and R9 for each of its new mid-power emitters.
Lumileds hence extends its mid-power portfolio to general illumination applications. The firm's other mid-power products include SuperFlux, SnapLED and SignalSure LEDs (the most widely used LEDs for automotive exterior lighting).
"The lighting industry's performance expectations of mid-power LEDs is well below the expectations for power LEDs," says Rahul Bammi, VP marketing. "Distributed light solutions like those found in offices should deliver quality of light, color stability and useable lifetimes similar to what our LUXEON LEDs deliver," he believes. "Most importantly, lighting designers and technical specifiers should have the confidence that the light source inside will perform as intended. We are certain that the new Lumileds 5630 emitters will outperform other options over their lifetime."
Lumileds says that it has used its expertise, including proprietary phosphor technology, to create its first illumination mid-power LED. "Many of the mid-power solutions being implemented today will see unplanned and unexpected color shift over time, and we think the industry needs better LEDs," says Bammi.
The new 5630 LEDs are available now from Future Lighting Solutions.
Tags: Philips Lumileds LUXEON LEDs
Visit: www.philipslumileds.com