10 April 2012
DuPont MCM Introduces Solamet PV416 photovoltaic metallization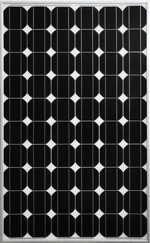 DuPont Microcircuit Materials (MCM) of Bristol, UK has introduced DuPont Solamet PV416 photovoltaic metallization, a new frontside silver paste material used to raise the efficiency of thin film photovoltaic cells.
Picture: DuPont's Solamet PV416 photovoltaic metallization paste is raising the efficiency for thin film solar cells by as much as 0.5% at Midsummer AB. Photo courtesy of Midsummer AB.
The composition has the capability to be processed at temperatures of less than 140°C, and provides improved contact resistance, conductivity, adhesion and fine line resolution when printed on transparent conductive oxides (TCOs), all of which the firm says are key properties for improved performance in copper indium gallium (di)selenide (CIGS), amorphous silicon (a-Si), and organic photovoltaic (OPV) cells and modules. The material has most recently been adopted at Midsummer AB, where it has demonstrated a 0.5% increase in conversion efficiency on stainless steel-based CIGS cells.
"DuPont continues to advance metallization technology for thin film photovoltaics, and Solamet PV416 represents the latest generation of performance improvements," said Kerry Adams, European business development manager, DuPont Microcircuit Materials. "Working in close collaboration with innovative module makers such as Midsummer gives us insights on how we can engineer materials to meet their needs for easier processing and increased efficiency that strengthen their competitive edge."
"Midsummer offers a unique and cost-effective, turn key CIGS solar cell manufacturing solution with the DUO Line, and we have high standards for metallization paste performance on our stainless steel substrate," said Sven Lindström, chief executive officer, Midsummer AB. "Solamet PV416 enabled us to print fine lines with a high aspect ratio for greater conductivity and gave the best result of the five different brands we have tested, raising the conversion efficiency by half a percent. As we screen print every single cell, instead of scribing large modules, the performance of the metallization paste is of extra importance for Midsummer and its customers."
DuPont Solamet PV416 photovoltaic metallization paste can be processed at lower temperatures than similar pastes used in crystalline silicon cells, and its chemistry provides essential performance characteristics such as high conductivity, adhesion and line resolution. With excellent printed conductivity (10mOhm/sq@25micron), low contact resistance (3mOhm.cm2), and superior line resolution (<100 micron), it is ideal for solar cells built on thin film photovoltaic substrates whether flexible or stainless steel.
Tags: Photovoltaic metallization CIGS a-Si
Visit: http://mcm.dupont.com