8 September 2011
IMS downgrades 2011 packaged LED market growth to 1%  
After 60% growth in 2010, the gallium nitride (GaN) LED market is expected to pause in 2011, rising just 1% to $8.7bn, according to IMS Research's latest 'Quarterly GaN LED Supply/Demand Report'. 
The market research firm says that the slowdown can be attributed to:
Slower-than-expected growth in backlighting (which accounts for over 60% of GaN LED revenues). After 80% growth in 2010, backlighting is now expected to fall 3% in 2011 to $5.4bn, despite 36% unit growth due to aggressive price reductions.
Supply growing more than two times faster than demand, as both existing players and many new entrants significantly expanded capacity in a disappointing year for demand, putting pressure on prices. Unyielded 2"-equivalent wafer capacity is expected to rise 67% in 2011 compared with a 29% increase in LED demand to 75bn die, causing the second-half 2010 surplus to widen in 2011.
The growing over-supply has led to declines in average selling price (ASP) of up to 44% for 2011, depending on the segment, and a blended ASP decline of 21%. With costs falling more slowly than expected on under-utilization, margins have worsened for most LED makers.
"All the LED backlighting segments are expected to fall in revenues in 2011 except for TVs, which are now expected to rise 13%," says IMS Research senior VP Ross Young. "However, the growth in TVs is not sufficient to offset the weakness in other segments," he adds. "In addition, the LED TV market is growing below expectations in 2011 on overall TV market weakness in developed countries which are most able to afford LED TVs and price sensitivity in the developing countries which are enjoying the fastest growth. As a result, we have revised downward our LED penetration into TVs from 45% to 43% in 2011, up from 23% in 2010, and from 73% to 68% in 2012."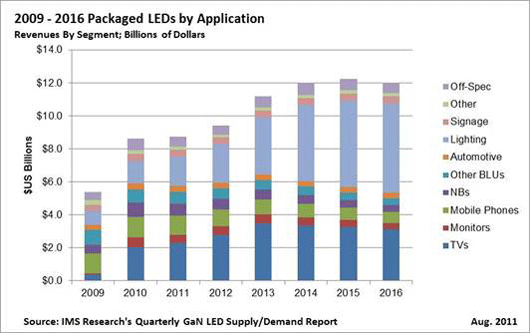 Graphic: Packaged LED revenue ($bn) by application (2009–2016).
The lighting market is the fastest-growing application for packaged LEDs in 2011, rising 24% to $1.7bn and reaching a 20% share of packaged LED revenues (up from 16% in 2010). Despite the rapid growth, LEDs are only expected to achieve a 1% unit share and 14% revenue share of the lighting market in 2011, leaving significant potential for future growth, notes IMS.
"Looking forward, we expect faster revenue growth for packaged LEDs through 2015, with both backlighting and lighting growing in 2012 and 2013 and lighting offsetting declines in backlighting in 2014 and 2015, with all major panel markets saturated by LEDs from 2014," says Young. "However, by 2016, lighting growth will slow and won't be able to offset the growing weakness in backlighting, worsened by gains from AMOLEDs [active-matrix organic LEDs]," he adds.
In its latest quarterly report, IMS has extended all forecasts to 2016, with the lighting market forecasted to 2020. LED lamp and luminaire revenues are expected to rise to $74bn in 2020, reaching a 42% unit share and a 73% revenue share of the lighting market as costs and prices fall and incandescent bans take effect worldwide. However, by the end of the forecast period, LED growth is expected to slow on increased penetration and long lifetimes, with LED lamp revenues falling from 2018, limiting the window for companies to take advantage of the growth in LED lighting.
In second-quarter 2011, LED TV panel shipments rose 22% quarter-to-quarter and 82% year-on-year, but were 10% below suppliers' targets. LG Display remained top in TV panel and LED TV panel share, while Samsung led in LED consumption for TVs, at 1.2bn 20x40mil equivalents. The average number of 20x40mil LED equivalents per LED TV fell 6% quarter-to-quarter (to 165) on product mix changes.
LED monitor panels rose 5% quarter-to-quarter and 115% year-on-year to earn a 43% share, up from 41%. Q2/2011 LED monitor panel shipments were 13% below target due to weakness in the monitor market. LG Display led in monitor panels, LED panels and LED consumption.
In Q2/2011, notebooks displays were 100% penetrated by LEDs for the first time. In Q3/2011, due to the strength of the tablet market, notebook panels measuring <10" are expected to overtake 14.x" panels as the second most popular size. LG overtook Samsung in notebook panels, LED panels and LED consumption.
IMS Research's latest Quarterly GaN LED Supply and Demand Report also tracks and forecasts MOCVD shipments, LED capacity by manufacturer, LED and MOCVD supply/demand, sapphire supply and demand, sapphire pricing, and quarterly notebook, monitor and TV panel shipments by backlight type, size, resolution and refresh rate.
Tags: LED market
Visit: www.ledmarketresearch.com