14 November 2011
Osram's new IR Power Topled boosted by 80% with Nanostack technology
Osram Opto Semiconductors GmbH of Regensburg, Germany says that its new Power Topled with lens (SFH 4258S/4259S) has an optical output of 80mW from an operating current of 70mA, which is 80% higher than the standard version of its infrared LED, despite having the same surface area and the same current.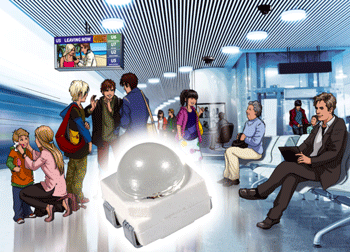 This boost comes from a special thin-film chip which, due to Nanostack technology, has not just one but two p-n junctions grown one on top of the other. The resultant increased range will most benefit applications in the security sector and in gesture recognition, says the firm.
Picture: The IR Power Topled with Nanostack technology chips provide high optical output and open up new design options – particularly in the security sector.
More light from the same surface area will always be needed if space is tight, if a greater range is required, or if light has to be distributed evenly over a greater area. This can often be achieved more flexibly with a large number of small LEDs than with a small number of large LEDs, and price also plays a key role. Apart from the Nanostack chip and the associated higher output, the new infrared Power Topled is the same as the standard version and can therefore be used as a simple direct replacement. The package dimensions (footprint) remain the same, so existing designs can continue to be used. Because of the series circuit, the voltage is higher by about a factor of two.
The new infrared Power Topled emits at a wavelength of 850nm and is therefore a good compromise between maximum spectral sensitivity for CCD and CMOS cameras and suppressed visibility for the human eye. It is available with beam angles of +/-15° (SFH 4258S) and +/-25° (SFH 4259S) from two different lens types.
Osram Opto says that the new LED is particularly useful for infrared illumination, especially in security systems. In CCTV applications the range can be increased significantly with the same number of LEDs. The main area of application in the consumer sector involves camera-based gaming, as this is where high optical output has the greatest benefit. "These high-output mid-segment IR LEDs provide greater flexibility in designing individual customer solutions," comments Dr Jörg Heerlein, senior marketing manager for the industrial sector.
Visit: www.osram-os.com