31 March 2011
ROHM launches 600V/20A SiC Schottky barrier diodes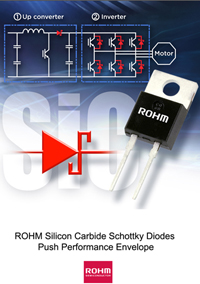 ROHM Semiconductor of San Diego, CA (the US arm of system LSI, discrete components and module product maker ROHM Co Ltd of Kyoto, Japan) has launched the SCS1xxAGC series of silicon carbide (SiC) Schottky barrier diodes (SBD).
The firm says that the new class of SiC diodes offers low forward voltage and fast recovery time, leading to improved power conversion efficiency in applications such as power factor correction (PFC)/power supplies, solar panel inverters, uninterruptible power supplies (UPS), air conditioners and others.
The SCS1xxAGC series maintains low forward voltage (VF) over a wide operating temperature range, resulting in lower power dissipation under actual operating conditions (e.g. the 10A-rated part has a VF of 1.5V at 25ºC and 1.6V at 150ºC). Low VF reduces conduction loss, while the ultra-short reverse recovery time (15ns, typical) enables high-speed switching and minimizes switching loss.
ROHM Semiconductor says that, with the acquisition of single-crystal SiC wafer manufacturer SiCrystal AG of Erlangen, Germany last year, it possesses total manufacturing capability for SiC semiconductors, from ingot formation to power device fabrication, allowing rapid development of products and complete control of raw materials reliability and quality.
"SiC is the ideal material for power electronics, with its high breakdown voltage, low power loss, high operating temperature and superior thermal conductivity," says ROHM Semiconductor's senior technical product marketing manager David Doan. "ROHM is not the first vendor to offer SiC SBDs, but we're introducing devices with some differentiating features such as low VF and the highest current rating at 600V (a true 600V/20A SBD, not dual 2x10A)," he adds.
"These diodes are but the first in ROHM's SiC product lineup," Doan notes. "We also have 1200V SBDs and MOSFETs, currently in sampling at strategic partners, to address higher-power applications such as UPS and to enable all-SiC power devices."
Tags: ROHM Semiconductor SiC Schottky barrier diodes SiC SiCrystal
Visit: www.rohm.com/us/silicon-carbide-diode.html
Join Semiconductor Today's LinkedIn networking and discussion group