6 January 2011
AQT to site second manufacturing plant in South Carolina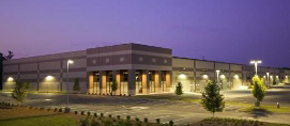 Privately held AQT Solar of Sunnyvale, CA, USA has selected a 184,000 square foot LEED Silver Certified facility in the Carolina Pines development in Richland County, SC as the site of its second copper indium gallium diselenide (CIGS) thin-film solar cell manufacturing plant.
Picture: Exterior of AQT's new South Carolina facility.
AQT opened its first R&D and manufacturing facility in Sunnyvale (close to the firm's former base in Santa Clara) just last August, with customer shipments starting in December. Annual production capacity should rise from its initial 15MW to its full 30–40MW capacity by the end of 2011, only partly fulfilling AQT's existing order backlog of 160MW (50MW of which is due in 2011).
However, phased build-out of the new site in South Carolina will start with equipment installation in first-half 2011, targeting 30–40MW annual production capacity and the creation of 60 jobs this year (helping to meet the backlog). The facility should grow to annual capacity of about 1GW by the end of 2014, creating 1000 jobs in total.
AQT says that South Carolina's strong market for clean energy and favorable business climate made it an attractive choice for it to locate its second facility. The large number of universities and technical colleges in the region can provide a trained labor force.
"AQT Solar has achieved significant growth in a short period of time [since being founded in 2007]," says CEO Michael Bartholomeusz. The firm uses a proprietary process (allowing continuous in-line production) together with manufacturing platforms that have been field-proven in the hard-disk-drive industry. Last April, a strategic partnership was agreed for Santa Clara-based Intevac (which designs and makes high-productivity sputtering-based manufacturing systems) to supply manufacturing equipment to AQT. Also last April, AQT closed a $10m second round of venture funding (bringing the total raised to almost $15m) to finance construction of the 20,000ft2 Sunnyvale facility.
"We are excited to work with the state of South Carolina as we begin this next phase of our company's development," adds Bartholomeusz. "We appreciate the extraordinary assistance we received from the South Carolina Department of Commerce, the Central SC Alliance and Richland County," he adds.
"Our team has been working with the company for the past several months on this competitive project," says Mike Briggs, president & CEO of Central SC Alliance (a not-for-profit public/private partnership that engages in the recruitment of capital investment and job creation in central South Carolina). "The University of South Carolina research initiatives and Innovista, Midlands Technical College and Richland County's business friendly attitude helped solidify this deal," he adds.
Led by a project management team, South Carolina's workforce recruiting and training program readySC is working closely with AQT to assist with recruitment as well as customized training design and delivery.
See related items:
CIGS PV cell maker AQT announces first customer shipments
Tags: AQT Solar CIGS PV cells
Visit: www.aqtsolar.com