2 February 2011
Lumileds adds SignalSure surface-mount LEDs for automotive signaling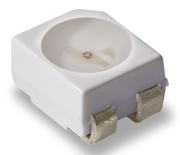 LED maker Philips Lumileds of San Jose, CA, USA has launched its new SignalSure mid-power LEDs for automotive signaling applications, available in red-orange and amber colors (per automotive specifications).
The new LED is intended to be the most robust and reliable surface-mount LED available to the automotive industry and has undergone a rigorous Multi Environment Overstress Testing (MEOST) regime that exceeds the testing required by existing standards for automotive signaling LED source.
Lumileds says that the MEOST testing for SignalSure goes well beyond datasheet maximums to ensure ongoing reliability and performance. As part of the MEOST testing regime (developed in conjunction with tier 1 customers), SignalSure LEDs are exposed to extreme heat, humidity, and high levels of sulphur gas. Lumileds simulates high-voltage jump start and high-voltage alternator failure to ensure that the LEDs will continue to operate without degradation in performance, quality and light output. The MEOST test regime is outlined in the SignalSure Reliability Datasheet available on Lumileds' website. SignalSure LEDs are AEC-Q101 qualified and meet Japanese and SAE/ECE requirements.
"Reliability and confidence in a surface-mount signaling product has been our design objective for SignalSure from the start," says Paul Martin, senior director for Lumileds' mid-power automotive LEDs. "There are certainly other surface-mount LEDs in use today, but it was clear that the automotive industry's needs were not being met," he adds. "Only SignalSure achieves the automotive industry's desired level of reliability for a surface-mount product," Martin claim. "No other automotive SMD product we know of goes through the extreme testing applied to our LEDs and, as a result, we are delivering a superior SMD with a wide design margin for signaling applications."
SignalSure surface-mount LEDs expand a portfolio that includes Lumileds' SnapLED and SuperFlux LEDs. The firm claims that SnapLED has become the auto industry's standard for performance, flexibility and reliability, and its unique clinch frame assembly suits signature styling on vehicles worldwide. Lumileds expects SignalSure to be used for applications where thin, low-profile designs are preferred, including center stop, side-marker, tail, mirror turn, rear fog, and motorcycle signaling.
Lumileds wins Frost & Sullivan Award for Technology Innovation of the Year
Tags: Lumileds Automotive LEDs
Visit: www.philipslumileds.com