27 April 2011
Seoul Semiconductor's Z4 1W LED provides 100lm/W and CRI>85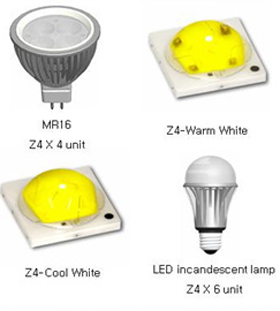 In accord with its 2011 business plan to launch a new product for different markets every month, South Korean LED maker Seoul Semiconductor has added to its high-intensity Z-Power LED series by launching the Z4 (with samples available now, for mass production in May).
The new model is a 1W LED (the most demanding in the existing LED market) and is suited to general lighting such as incandescent lamps and MR16 bulb-type lighting. The firm claims that it provides the best brightness (luminous flux of 100ml), luminous efficiency (100lm/W) and color rendering index (CRI>85) for a 1W LED. The Z4 is available in two colors: warm white and cool white.
Seoul Semiconductor says that the Z4 LED helps to prevent degradation at high temperatures (the most critical aspect for the LED package), with what is claimed to be exceptional reliability and high protection against heat compared with competing products. The firm claims that the price-competitive Z4 is also highly competitive in 'cost per lumen' (most important for LED lighting). Until now, LED performance was judged by 'lm/W', but now 'cost/lm' is more important for performance after releasing high-intensity products over 100lm, says the firm. In addition, a silicon lens has been adopted for optical safety.
"We have developed the high-efficiency, low-price Z4 series with the goal of increasing our market share in the world's most demanding 1W LED market," says Seoul Semiconductor vice president In-sup Ra. "We will be able to further expand the incandescent lamp and MR16 bulb-type LED lighting market and enhance price competitiveness with this new product," he believes.
Tags: Seoul Semiconductor LEDs
Visit: www.acriche.com