19 April 2011
Osram-based LED street lighting pays off for small community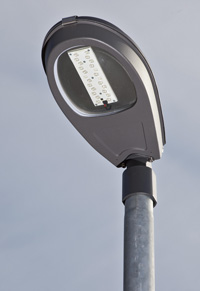 Osram Opto Semiconductors GmbH of Regensburg, Germany says that nine street lights using its LED technology are to illuminate the new-build Rohrdorf area of the Pielenhofen community near Regensburg. In stages, Pielenhofen will switch over its street lighting to LED lighting across the community's whole area. Osram Opto says this shows that LED lighting pays off not only for large cities but also for small communities, which can also achieve huge savings while making a contribution to sustainability.
Since the end of 2009, the European Union regulations requiring the reduction of CO2 emissions and of energy consumption also relate to products that do not themselves consume any energy but do have major implications for energy consumption – as is the case for street lighting. Thus, starting in April 2012, certain luminaires for street lighting, such as the sodium vapour lamps used in Pielenhofen, will be withdrawn from the market. Also, from 2015, the mercury vapour lamps used by many municipalities will no longer be sold within the EU. From then on, only efficient high-pressure discharge lamps or LEDs will be permitted.
The Pielenhofen community in the Regensburg administrative district is thus taking on a front-runner role with its plans to re-equip its lighting resources. Osram Opto says that LED-based street lights are optimally suited to making the forthcoming change: the high yield, in terms of light, makes LED-based luminaires much more efficient; in less frequented streets, the lighting can be dimmed at nights — as is the case for Pielenhofen — by means of the flexible light control used for LED systems. Also, at night-time the good color rendering index (CRI) of LED light sources provides a natural optical impression in terms of the colors, and hence greater safety due to a more clearly contoured environment. LEDs also offer greater product longevity, requiring maintenance work much less frequently than conventional lighting and hence cutting costs.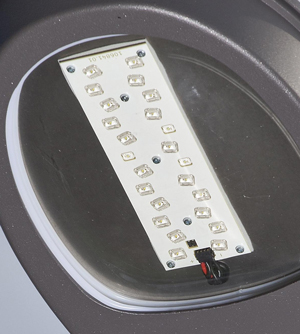 Picture (right): Close-up details of street light incorporating Osram Opto's Golden Dragon Plus LEDs.
The street lights to be deployed are of the 'Kassel' type from the manufacturer Herkules. As well as incorporating Osram Opto's Golden Dragon Plus LEDs, they are equipped with a kit for retrofit purposes, enabling the replacement in stages of the community's sodium vapour lamps. As a pilot project, in February 2010 mayor Reinhold Ferstl had two LED luminaires installed in the heart of the locality, yielding positive feedback from the local residents. "What convinced us was the modern technology, as it not only produces more pleasant, warm light: the light diodes only project their light into the desired direction," Ferstl notes. This effect is reinforced by the integrated lense of the Golden Dragon Plus, enabling it to generate brighter and more even illumination of a defined area, despite its low power intake. It also achieves optimal illumination of the street, conforming with the relevant norms, avoiding scattered light and staying below the limit regarding dazzle, says Osram Opto. The dimmer function is also brought into effect in Pielenhofen: in the evening, the lighting is reduced by 50%, making an additional energy saving.
However, the switchover to LED-based street lights is not a matter of pure necessity for the parish of 1500 residents but part of a sustainable overall concept, says Osram Opto. "For a long time now, we have been consistently maintaining our course with regard to sustainability," Ferstl explains. "In modernizing our street lighting, we made a conscious decision in favour of quality 'Made In Germany' and a producer of lighting products from the region," he adds.
LED lamp consumption for general lighting in US to grow at 27.6% to $1.64bn in 2015
Visit: www.osram-os.com
Join Semiconductor Today's LinkedIn networking and discussion group