4 April 2011
GaN LED market to grow 38% in 2011
After growing 67% in 2010 to $8bn, the market for gallium nitride (blue/green) LEDs is forecasted to grow 38% in 2011 to $10.8bn, based on a 49% rise in volume to 62 billion die, according to the latest issue of IMS Research's 'Quarterly GaN LED Supply and Demand Report'.
In terms of revenues by application, TVs are expected to grow the fastest, up 97% to $4.3bn as LED TVs proliferate (accounting for 51% of TV panel shipments). Monitors and general lighting are also expected to grow rapidly, each up at least 57% on 2010.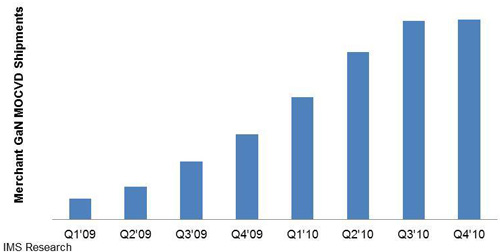 "Growth is expected to accelerate in first-quarter 2011 after a lackluster second-half 2010 resulting from excess panel inventories and reductions in LEDs per panel," says Ross Young, IMS Research senior VP of Displays, LEDs and Lighting. "LEDs shipped with notebook, monitor and TV panels are expected to rise 13% quarter-to-quarter to over 5 billion after just 1% growth in Q4/2010 on continued LED share gains in monitors and TVs and new 2011 designs utilizing more LED die for 240Hz/3D and hybrid backlit panels," he adds. "Samsung is expected to consume the most LEDs in Q1/2011 after LG Display led throughout 2010."
Despite the second-half 2010 weakness, shipments of metal-organic chemical vapor deposition (MOCVD) reactors did not slow however, as LED makers continued to build capacity for the rapid increase in demand that is projected out to 2015 by application each quarter. GaN MOCVD shipments from merchant suppliers Aixtron, Applied Materials, Jusung, Taiyo Nippon Sanso and Veeco reached a new quarterly record of 232 units in Q4/2010, making 798 for the year. Market leaders Aixtron and Veeco maintained their respective market shares from Q3/10 of 53% and 44%, respectively. For 2010, Veeco did take market share, rising from 31% to 42%, while Aixtron's share fell from 62% to 55%.
By region in Q4/2010, there were big changes, with China's share of MOCVD purchasing more than doubling from 31% to 64% while Korea's share fell from 27% to just 5%. China's MOCVD buying spree is expected to continue through 2011, with their share rising to over 70%, resulting in healthy growth in the MOCVD market to more than 1000 tools fueling more growth for LED makers.
With such robust MOCVD growth, production capacity is also expected to continue to grow rapidly, rising 75% in unyielded 2" equivalents. "With a growing number of lighting suppliers migrating to 6" wafers, as quantified in this report, it will provide a great opportunity to sapphire suppliers, as 6" wafers should maintain a healthy pricing premium throughout 2011," comments Young.
Penetration of LED backlights into LCD TVs to grow from 21% to 53% in 2011
Large-size LED-backlit LCD panels to reach 67% market share in 2011
LED pricing pressure extending into Q1/2011
Booming MOCVD market gathers pace
Visit: www.ledmarketresearch.com
Join Semiconductor Today's LinkedIn networking and discussion group