26 April 2011
G-Way launches GaN-based 0.5–2.5GHz high-power broadband amplifier
G-Way Microwave of South Hackensack, NJ, USA has launched the model MP1500/2G/48MK-CP-A high-power amplifier (HPA), which uses gallium nitride (GaN) power devices that provide an output power of 60W throughout the full 0.5–2.5GHz frequency band, and a typical gain flatness of ±2.5dB with a typical gain of 50dB.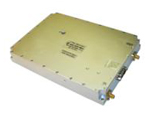 Packaged in a 8" x 5.6" x 1.1" module, the HPA integrates a bi-directional power coupler for forward and reflection power monitoring. Additional standard features include current and temperature monitoring, an enable/disable function, and over-temperature shutdown with auto-recovery.
The nominal operating DC current at 28V is 6A. Standby current is a maximum of 0.2A under disable status. All DC, monitoring functions and muting are accessible via a 9-pin D-sub connector. Typical applications include communication systems and broadband jamming.
G-Way is an ISO9000:2008-certified company incorporated in 1997 that designs and manufactures custom passive and active RF and microwave components. Passive components include bandpass, lowpass, highpass and bandstop filters, along with filtering configurations including diplexers, duplexers, triplexer, and multiplexers. Active components include low-noise amplifiers (LNAs), low-, medium- and high-power RF amplifiers, subsystems and systems for commercial, military, communication systems, test & measurement and other requirements for RF amplification.
Visit: www.gwaymicrowave.com