News
11 September 2009
Lumileds launches LUXEON Altilon power LEDs for automotive forward lighting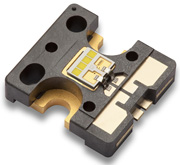 LED maker Philips Lumileds of San Jose, CA, USA has launched its LUXEON Altilon power LEDs for the next generation of advanced automotive forward lighting. The firm says the LEDs' small size, high brightness, and lower energy consumption also suit high- and low-beam applications, daytime running lamps, static bending lamps and position lamps.
Picture: Altilon power LED in 1x4 chip configuration.
"Altilon enables our automotive customers to provide forward lighting solutions that deliver never-before-possible performance and features while at the same time provide unique visual identities for their vehicle brands," says Steve Barlow, executive VP of sales & marketing. By using Lumileds' thin-film flip-chip die, the Altilon is the brightest automotive LED available, the firm claims.
Already implemented in the Audi R8 for low- and high-beam functions, the Altilon can deliver more than 850 lumens and 60MNits at a drive current of 1000mA. It is also AEC-Q101C qualified. The color temperature is 5600K and it conforms to both ECE and SAE specifications.

Search: Philips Lumileds Automotive LEDs
Visit: www.philipslumileds.com