News
16 October 2009
RUSNANOPRIZE-2009 awarded to Keldysh, Cho and Riber
The plenary session of last week's Second International Nanotechnology Forum in Moscow - organized by RUSNANO (Russian Corporation of Nanotechnologies) - saw the award of the inaugural International Prize in Nanotechnology (RUSNANOPRIZE-2009).
Founded by RUSNANO, RUSNANOPRIZE is reckoned to be the first international prize awarded for not only R&D and inventions but also the introduction of nanotechnology in commercial production. This prize is awarded annually in one of four fields (nanoelectronics, nanomaterials, nanobiotechnologies and nanodiagnostics) to outstanding scientists and companies (both national and foreign) engaged in the development of nanotechnologies.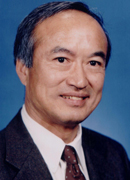 The fund of 3 million rubles (about $95,000) for the 2009 prize (which focuses on nanoelectronics) is shared equally between the recipients Leonid Keldysh (a theoretical physics professor at Russia's Lebedev Institute of Physics) and professor Alfred Y. Cho of Bell Laboratories in the USA. Riber S.A. of Bezons, France, which manufactures molecular beam epitaxy (MBE) systems as well as evaporation sources and effusion cells, is also named as a recipient.
Picture: Alfred Y. Cho.
Keldysh is acknowledged for pioneering studies of superlattices and tunnel effects in semiconductors widely used in nanoelectronics instrument engineering (particularly in MBE). Cho is acknowledged for investigating and developing MBE technology for producing nano-hetero-structures and applications in nanoelectronics. Riber is acknowledged for developing MBE equipment.
The scientific, engineering and production work of the award winners is credited for laying the foundation for the mass use of nano-hetero-structures in the production of telecom systems (mobile communications and the Internet), light sources (LEDs, solid-state lasers), various-purpose photo-receivers (security systems, supervision and control systems, including those used in space), high-efficiency solar radiation converters (photovoltaic generators) and sensors for intelligent control systems and robotics.
The Prize Committee is co-chaired by RUSNANO's CEO Anatoly Chubais and Nobel Prize laureate & Russian Academy of Sciences vice president Zhores Alferov. The voting results were independently verified by Ernst & Young, the official partner of the Nanotechnology International Prize.
See related items:
MBE pioneer Cho to join US National Inventors Hall of Fame
MBE pioneer Alfred Cho honoured with U.S. National Medal of Technology

Search: RUSNANO Riber MBE Alfred Cho
Visit: www.rosnano.ru