News
1 May 2009
Cree demos record-efficiency 132lm/W cool-white LED, giving 345lm at 1A
At next week's LIGHTFAIR International event in New York (5-7 May), Cree Inc of Durham, NC, USA is demonstrating the newest addition to its lighting-class XLamp LED family.
The cool-white XLamp XP-G provides luminous flux of 139 lumens and efficacy of 132 lumens per Watt at 350mA. Driven at current of 1A, it produces 345 lumens, which is 37% brighter and 53% more efficient than the brightest of Cree's existing XR-E LEDs. The XP-G has what is claimed to be the highest lumen density of any available lighting-class LED, and is based on the XLamp XP family package.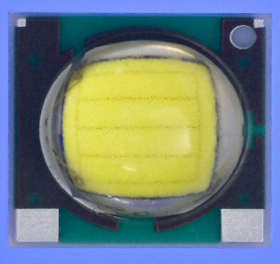 "The XLamp XP-G again raises the level of performance available from our XLamp LED family," says Paul Thieken, marketing director LED components. "This product is designed for customers requiring the highest levels of brightness and efficacy," he adds.
Cree is taking sample requests for the XP-G, targeting commercial availability in third-quarter 2009.
See related item:
Cree claims smallest ANSI-compliant warm/neutral-white LED bins

Search: Cree Cool white LED
Visit: www.cree.com