News
13 March 2009
SIA honors UCLA's Kang Wang with University Researcher Award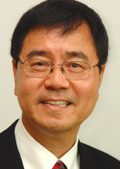 At its annual conference in Washington DC on 12 March, the Semiconductor Industry Association (SIA) of San Jose, CA, USA presented its 2009 University Researcher Awards to Dr Kang Wang of University of California, Los Angeles (UCLA) and Dr Anantha Chandrakasan of Massachusetts Institute of Technology (MIT).
Picture: Dr Kang Wang of University of California (UCLA).
"Each year, the SIA recognizes university researchers who have made significant contributions to solving the obstacles that must be overcome to continue on our technology roadmap," says SIA chairman Hector Ruiz.
Kang Wang has been a professor in the Electrical Engineering Department at UCLA since 1979, and served as chair of the department from 1993 to 1996. He is a Fellow of the IEEE, and a member of the American Physical Society and the Materials Research Society. He has directed research projects on silicon carbide (SiC) nano devices, self-assembly of quantum structures, spintronics materials and devices, and other basic research to develop technologies that should enable continued progress in semiconductor technology when the limits of conventional microelectronics technology are reached. His current research focuses on nanoelectronics and optoelectronics, MBE and superlattices, micro-wave and millimeter electronics/optoelectronics, and quantum computing.
Dr Anantha Chandrakasan is the Joseph F. and Nancy Keithley professor of Electrical Engineering at MIT. He has performed extensive research in micro-power design, wireless micro-sensor arrays, and ultra-wideband radios. A recent joint project with scientists at Texas Instruments developed a microcontroller that reduces power consumption by 90% compared to a conventional device.
"We are pleased to recognize the important work that Dr. Wang and Dr. Chandrakasan are doing to address the significant challenges our industry faces as we move beyond the horizons of the International Technology Roadmap for Semiconductors," concludes Ruiz.

Search: SiC
Visit: www.sia-online.org
Visit: www.ee.ucla.edu/faculty-kang-wang.htm
Visit: www-mtl.mit.edu/~anantha