News
28 April 2009
Veeco's revenues fall 43% after pause in bookings
For first-quarter 2009, Veeco Instruments Inc of Plainview, NY, USA has reported revenue of $62.8m, down 39% on $102.3m a year ago and 43% on $110.3m last quarter. "Veeco's first quarter results were in line with guidance [of $60-70m] in an extremely challenging market environment," says CEO John R. Peeler.
LED & Solar process equipment contributed 35% of revenue ($22.2m, down 42% on $38m last quarter and 47% on $42.1m a year ago due to the high-brightness LED industry absorbing the significant number of MOCVD systems bought in the last two years). Metrology contributed 38% ($23.7m, down 15% on $28m last quarter and 34% on $36m a year ago). Data Storage process equipment contributed 27% ($16.9m, down 62% on $45m last quarter and 30% on $24.1m a year ago due to customers freezing their capital equipment spending).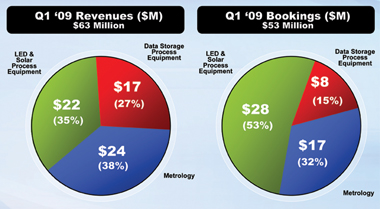 Chart credit: Veeco Instruments Inc.
"We have moved swiftly to restructure Veeco in light of the very challenging start to 2009, and saw the initial impact of these cost-reduction actions in the first quarter," says Peeler. "We are on-track with cost-reduction plans, including increased outsourcing, manufacturing consolidation, materials cost management and workforce reductions," says Peeler.
Previously, in Q4/2008, Veeco initiated a restructuring program that included cutting staffing by 24%, from 1318 at the end of September 2008 to under 1000 by the end of 2009 (reaching 1091, or 17%, at the end of Q1/2009). The cut is being achieved by simplifying Veeco's organizational structure, involving centralizing the firm's supply chain and operations, consolidating business units, increasing outsourced manufacturing (to lower expenses and improve the variable cost structure), and cutting the number of manufacturing sites from eight to four. In particular, Veeco aims to fully outsource MOCVD system manufacturing in Somerset, NJ by Q4/09 (compared to outsourcing about 60% of the product line as of a year ago). It also aims to move the CIGS (copper indium gallium diselenide) web-coater plant in Lowell, MA (formerly Mill Lane Engineering, acquired last May) to outsourced manufacturing (while retaining a focus on prototypes).
These efforts have already yielded declines in manufacturing overhead, service and operating expenses of over 20% since Q3/2008. In particular, operating spending has been cut from $38m in Q4/2008 to $33m in Q1/2009.
After including $4.4m in restructuring charges and a $1.5m inventory write-off in the Data Storage segment (from discontinuing certain products), operating loss was $18.9m, compared to $77.1m last quarter (which included charges of $80.1m, mainly an asset impairment associated with the Data Storage and AFM businesses) and operating income of $0.2m a year ago.
Gross margin has fallen from 41.7% a year ago and 39.5% last quarter to just 34.9%. In particular, LED and solar process equipment gross margins have fallen from 41% a year ago and 35% last quarter to just 29.2%, due mainly to the significant drop in sales volume, especially in MOCVD products.
Earnings before interest, taxes and amortization (EBITA) was a loss of $9.7m, compared to EBITA of +$6.2m last quarter and +$6.9m a year ago. Veeco's cash balance has fallen from $103.8m to a still healthy $93m after a $9.6m earn-out was paid for Mill Lane acquisition.
Due to the extremely weak business conditions in all business segments (leading to $1.8m of order cancellations), orders in Q1/2009 were $53m (down 40% on $88.5m last quarter and 51% on $109.3m a year ago). Backlog hence shrank by $11.9m to $135.3m. LED & Solar contributed 53% of orders ($28.5m, down 26% on $38.7m a year ago and 35% on $44m last quarter). One bright spot is that, despite the difficult economic circumstances, Veeco continues to build its solar business, booking a large, multi-system order from Korea's Daiyang Metals (which is building a 50MW CIGS PV power plant, ramping to 200MW in the next few years), as well as orders for thermal sources from several European CIGS manufacturers. Data Storage orders contributed just 15% of orders ($7.8m, down 44% on $14m last quarter and 81% on $40.6m a year ago to a record low level) as customers continue their capital spending freeze. Metrology contributed 32% ($17m, down 45% from $31m both sequentially and year-on-year, due to weakness across all end markets including semiconductor, data storage, scientific research and industry).
Beginning in second-quarter 2009, Veeco is therefore implementing further cost-cutting actions, consisting mainly of temporary salary reductions, reductions in bonuses and profit sharing, and plant shut-downs. This, combined with those already underway, should reduce manufacturing overhead, service and operating expenses by about $40m in 2009, compared to last year. The goal is to achieve EBITDA breakeven on quarterly revenue of less than $80m by Q3/2009, and to return to profitability by Q4.
"While we remain extremely cautious about business conditions, we see early signs of improvement," says Peeler. This includes improved equipment utilization rates (particularly for LED manufacturing), increased quoting activity across three business segments (especially to a large number of potential CIGS customers), and no significant additional push-outs (of MOCVD orders for LED manufacturing), he adds. Second-quarter orders should improve from the trough levels of the first quarter, he believes.
For Q2/2009, Veeco expects revenue of $60-70m and gross margin of 33-35%, excluding expected charges of $2.7-3.2m related to restructuring activities. However, it expects operating spending to be steady at $32-33m and operating loss to be cut to $13-18.1m. This compares with Veeco's model of operating spending of $34-35m on revenue of $80m for a breakeven quarter.
"We remain confident that Veeco will emerge from the present downturn with leading-edge technology, a solid balance sheet and a leaner, more cost-effective organizational structure," says Peeler. "Despite the near-term pause in customer spending, we continue to invest heavily in R&D to remain aligned with technology roadmaps across our three businesses," he adds.
Veeco expects strong multi-year LED industry growth tied to further adoption for applications such as TVs and laptops, driving purchases of MOCVD tools. In Solar, Veeco is actively quoting its FastFlex systems for flexible CIGS thin-film PVs and has just introduced its new FastLine system for CIGS PVs on glass susbtrates. Veeco now believes that it is the only firm offering production-scale solutions for CIGS manufacturing on glass using thermal evaporation sources for the CIGS absorber layer.
See related items:
Despite record MBE orders for solar, Veeco expects 36-46% sales dip in Q1
Veeco hits third quarter revenue guidance, but bookings take a tumble
Veeco exceeds Q2 bookings, revenues and earnings guidance

Search: Veeco MOCVD MBE Solar cells LEDs
Visit: www.veeco.com