News
13 January 2009
All-LED headlamps added to new V10 version of Audi R8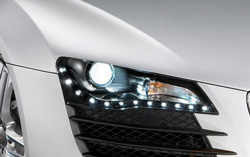 German car manufacturer Audi has begun taking orders for the second, 5.2-liter V10-powered model of its top-of-the-range R8 mid-engined sports car, which has become the first car to be equipped as standard with all-LED headlamps.
Launched at this week's 2009 North American International Auto Show in Detroit (for delivery in Germany in second-quarter 2009 at EUR142,400), power output and top speed are boosted from the 420PS and 187mph of the existing 4.2 liter V8-powered R8 model (launched in 2006) to 525PS and 196mph for the R8 V10 5.2 FSI quattro model. The engine is almost identical to that powering the R8 LMS that will race this year at customer level in the GT3 class.
LEDs have been used in production vehicles previously for tail-lights, brake lights and daytime running lights, which become mandatory in the European Union in May 2011 (although drivers in many European countries - such as Italy, Denmark, Finland, Estonia, and Sweden - already must use their lights during the day).
Audi was a pioneer in incorporating LED lighting into cars. Its Pikes Peak quattro concept sports-utility vehicle (presented at the 2003 North American International Auto Show in Detroit, and a forerunner of the Q7 production model) had the world's first fog lights equipped with LEDs (in strips integrated into the broad bumper). However, these LEDs had a luminous efficiency of just 18lm/W (compared to 20-25lm/W for a household light bulb). In late 2003, the 12-cylinder Audi A8 W12 became the world's first vehicle in series production with LED daytime running lights. The first full-LED headlamps appeared on Audi concept cars the Nuvolari quattro at 2003's Geneva Auto Show and the Le Mans quattro (a predecessor to the R8) at the International Motor Show IAA 2003 in Frankfurt.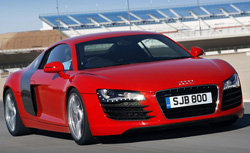 However, Audi claims that the R8 5.2 is the first car to use LEDs for not only the turn signals, daytime running lights (which now feature 24 LEDs each) and all interior lighting (including the engine compartment and footwells), but also for the high- and low-beam headlights (with 54 LEDs per headlight, supplied by Philips Lumileds).
The LEDs in the R8 have an efficiency of 100lm/W, for the first time surpassing the efficiency of xenon headlights (about 80lm/W), which are already four times more energy efficient than halogen headlights. By 2018, LED technology should be about eight times more efficient, Audi reckons.
So, as well as having a virtually unlimited service life (exceeding the lifetime of the vehicle), LEDs can also reduce fuel consumption. Audi reckons that just one vehicle's conventional low-beam headlights, tail-lights, and license-plate illumination consume 200W, which the alternator must constantly generate. By comparison, just 15W is required to power the Audi A4's LED daytime running lights (equating to a decrease of about 0.2 litres of fuel per 100km and about 4g fewer CO2 emissions per km). Audi reckons that its models with LED DRLs sold in 2008 alone consumed – during just their first year in use – about 10 million fewer litres of fuel and emitted about 25,000 fewer metric tons of CO2.
Audi says that the light from the R8's new LED headlights have been designed with a color temperature of 6000K, which more closely resembles daylight and provides greater contrast (less tiring to the eyes in night driving). "A lot of people initially viewed this development [LED lighting] as a mere marketing gimmick," says Dr Wolfgang Huhn, head of Audi's Light and Visibility Department. "Yet everyone who has seen these lights in action is not only astonished by the excellent output but also thrilled with the homogenous distribution of light and the agreeable, daylight-esque colour of the light."
Also, since LEDs can be digitally controlled, future generations of headlights should be able to react to weather conditions, speed, the distance between vehicles, and potentially dangerous objects. "We're striving to create intelligent headlights and tail-lights which 'think' and anticipate in the interest of enhancing a driver's safety and comfort," says Huhn. "For example, there are already high-beam headlights in pre-series development which will allow drivers to navigate roads at night without temporarily blinding oncoming drivers," he adds. "This is made possible by a variable distribution of light: an electronic system continuously calculates the distance to any approaching vehicles to ensure that the road ahead is ideally illuminated at all times – without irritating oncoming drivers."
See related items:
Top 3 automotive LED makers have over 50% of market
Automotive LED market to double in 10 years
Automotive demand to drive LED market
Osram's Advanced Power TopLEDs used in Audi R8's daytime running lights

Search: Automotive LEDs Lumileds
Visit: www.audi.com