News
10 September 2007
JDSU demos tunable 'transmitter-on-a-chip' PIC technology
Using what it calls Integrated Laser Mach Zehnder (ILMZ) technology, JDSU of Milpitas, CA, USA has demonstrated a photonic integrated circuit (PIC) that integrates a widely tunable laser and a Mach-Zehnder optical modulator on a single indium phosphide-based die (small enough to fit on the tip of a finger). JDSU says that the new PIC will allow it to develop smaller, higher-performance and more cost-effective tunable solutions that support faster network speeds.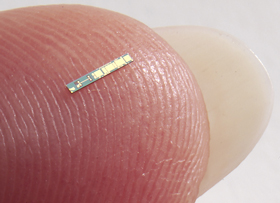 Starting in 2008, the new PIC will be incorporated into full-band tunable transponders and transceivers within compact packages, such as 300-pin small-form-factor (SFF) and pluggable small-form-factor (XFP) modules. The technology also enables JDSU to support transmission speeds greater than 11.3Gb/s as well as being scalable to support 40Gb/s networks.
Recent and dramatic growth in data, voice and video traffic over dense wavelength division multiplexing (DWDM) networks has stimulated service providers to scale up their capacity. However, the use of traditional fixed-wavelength lasers means holding expensive inventory for each wavelength. Also, the unpredictability of wavelength activity often leads to supply shortages for specific wavelengths, compromising network bandwidth capacity.
Instead, fixed-wavelength lasers can be replaced by tunable lasers in transponders and transceivers , creating agile optical networks (AONs) with 'dynamic reconfigurability', whereby network operators can quickly respond to fluctuating traffic by switching between wavelengths on demand. A single tunable laser can cover nearly a hundred 50GHz-spaced channels in a DWDM system, either switched to support different wavelengths on demand or used as a universal source to support a particular wavelength.
As well as simplifying network management and optimizing network activity, this eases the cost of purchasing, storing and managing spare devices for wavelength management. Consequently, market research firm CIR predicts that the tunable laser market will grow at a compound annual growth rate of 37% over the next five years to nearly $1bn by 2012.
JDSU claims that its new PIC solutions with ILMZ technology will further streamline network management and reduce costs for service providers by providing tunable lasers in smaller form factors. Modules that take up less space in network equipment racks and use less power can reduce data center rental costs and power bills, the firm adds.
"A more compact and integrated approach toward tunable lasers is critical as service providers strive for greater efficiency in their networks," says Alex Schoenfelder, vice president and general manager of Integrated Photonics. "Integration at the PIC level will help to lower costs and enable high-volume manufacturing," he adds.
See related items:
Bookham qualifies submarine pump laser and starts volume shipments
Tunable laser manufacturer Syntune raises $7.1m in second-round funding
JDSU grows 16% year-on-year, despite transitions at optical communications customers hitting last quarter
Visit: http://www.jdsu.com