News
12 November 2007
Wakonda named Clean Energy Entrepreneur of the Year and awarded $900,000 DOE funding
In Denver, CO, USA at last week's 20th Industry Growth Forum of the US Department of Energy's (DOE) National Renewable Energy Laboratory (NREL), Wakonda Technologies Inc of Fairport, near Rochester, NY, USA beat 31 competitors to be named Clean Energy Entrepreneur of the Year. The $10,000 prize is sponsored by electricity and natural gas provider Xcel Energy of Minneapolis, MN, USA.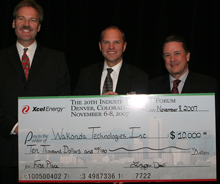 Picture: Riley Hill (left) of Xcel Energy presents a check for $10,000 to Wakonda's president Fritzemeier, the Clean Energy Entrepreneur of the Year Award Winner. NREL Enterprise Development program manager Marty Murphy is on the
right.

Wakonda is commercializing high-efficiency Virtual Single Crystal (VSC) thin-film technology related to III-V triple-junction terrestrial solar cells but fabricated on Ge film on flexible metal foil about 2 mils (0.0508mm) thick, rather than on expensive germanium crystal wafer substrate. The photovoltaic (PV) cell can also therefore be aesthetically integrated into buildings, infrastructure and personal power applications. The technology promises to bring lower costs because of its higher efficiency, lighter weight and flexibility, says the firm.
"Our investor panel was impressed with Wakonda's novel approach to producing high-efficiency PV products—this could be a step-change for the solar industry," said L. Marty Murphy, Forum chairman and NREL's manager of Enterprise Development.
*Also last week, in the Funding Opportunity Announcement 'Next Generation Photovoltaic Devices & Processes' (as part of the President Bush's Solar America Initiative, which aims to make solar energy cost-competitive with conventional sources by 2015), the DOE said that it is investing $21.7m in 25 projects at 15 universities and six companies, averaging $900,000 over three years (fiscal 2008–2010) . This includes $892,735 awarded to Wakonda for a $2.1m project "to apply low-cost conventional thin-film manufacturing techniques to the production of large-area, high-efficiency multi-junction PV".
See related items:
Emcore receives record concentrator photovoltaic cell order
Emcore claims record efficiency for volume-production, multi-junction solar cell aimed at terrestrial applications
Spectrolab's new terrestrial solar cell smashes 40% efficiency barrier
Search: Solar cells Photovoltaic NREL
Visit: www.wakondatech.com
Visit: www.nrel.gov