News
31 August 2007
Osram supplying LEDs for streetlights
Osram Opto Semiconductors GmbH of Regensburg, Germany says that its Golden Dragon Oval LEDs have been incorporated into solar-powered streetlights made by EPS Soltec for use in the towns of Diex and Hörbranz in Austria.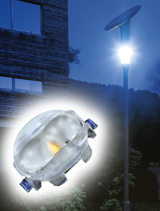 For this application, Osram Opto has developed special oval lenses that direct the light down accurately at an angle of 80° x 120° onto the street. So, no light is lost sideways (unlike the normal circular distribution of light from conventional streetlights), cutting down on light pollution.
Streetlight with 12 Golden Dragon
Oval LEDs (photo: EPS soltec )
In each streetlight, just 12 Golden Dragon Oval LEDs are sufficient to illuminate cycle paths and footpaths from a height of 3.4m. The LEDs produce 60lm each at 350mA, although for this application they are operated at 130mA and consume 0.35W (compared to 1W in standard applications). Also, they require a voltage of less than 10V rather than a 230V ac power supply, so no inverters are needed for converting the voltage.
In addition, the LEDs do not require secondary optics and can be integrated in almost any luminaire design, claims Osram Opto. The lighting can be adapted to ambient light conditions through dimming, and the color temperature can be adapted by combining white and yellow LEDs.
*Osram unveils Golden Dragons with 20° or 40° lenses for general lighting
Osram Opto Semiconductors has launched new versions of its Golden Dragon LED that have a lens with either a 20° or a 40° beam pattern, giving a strong light source for medium or flood beam characteristics with white or colored light, suiting accent lighting, spotlights, reading lights or desktop lights.
The LED's minimal dimensions (less than 1cm high, even with integrated lens) make it easier to construct luminaires and therefore open up a wider range of design options, claims Osram Opto.
At an operating current of 350mA, typical efficiency is 54lm/W, so power consumption of just 1.12W yields a brightness of 60lm. With a 20° lens, luminous intensity is 155cd and luminance per watt is 139cd/W. With a 40° lens, luminous intensity is 81cd and luminance per watt is 72cd/W.
Visit: http://www.osram-os.com