30 September 2019
WIN's integrated GaAs technology optimized for 5G front-ends
WIN Semiconductors Corp of Taoyuan City, Taiwan – the largest pure-play compound semiconductor wafer foundry – has combined a 100GHz ƒT enhancement-mode pseudomorphic high-electron-mobility transistor (pHEMT) with monolithic PIN and Schottky diodes to provide what is claimed to be best-in-class millimeter-wave (mmWave) performance for all front-end functions. The PIH1-10 platform is designed for single-chip 5G front ends operating in the 24-45GHz bands.
The PIH1-10 technology provides a new set of integrated gallium arsenide (GaAs) solutions that improve mmWave front-end performance. High-efficiency Ka-band GaAs power amplifiers, low-noise amplifiers (LNAs) and low-loss switches on a compact single-chip front-end can enable improved battery life and better 5G mmWave coverage.
Integrated GaAs front-ends can also be used in mmWave access points, and the higher Tx power and efficiency of PIH1-10 enables smaller active antenna arrays with lower total power consumption than existing RAN (radio access network) hardware.
The core of PIH1-10 is an E-mode pHEMT that provides the gain, power density and efficiency for mmWave transmit power amplifiers, and the noise performance needed in the receive LNA. The versatile single-supply transistor can support Tx power levels of 30dBm and an Rx noise figure of 2.5dB at mmWave frequencies. Furthermore, the integrated PIN diode provides mmWave Tx/Rx switch functionality with <1dB insertion loss, enabling monolithic integration of all front-end functions on a single chip.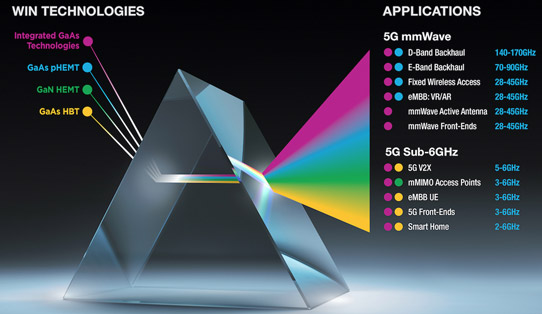 "GaAs technology outperforms BiCMOS in every front-end function, and mmWave single-chip front ends realized in PIH1-10 can reduce array power consumption, simplify thermal management, and extend battery life in 5G user equipment while reducing total cost of ownership for mmWave network access points," says senior VP David Danzilio. "In addition, the higher-performance integrated GaAs front-ends provide flexible mmWave active antenna solutions to support multiple deployment scenarios," he adds.
WIN is celebrating its 20th anniversary and showcasing its compound semiconductor RF and mm-Wave solutions in booth 1220 at European Microwave Week (EuMW 2019) in Paris, France (29 September - 4 October).
WIN releases PIH1-10 GaAs platform
WIN releases platform integrating 0.1µm GaAs pHEMTs with monolithic PIN and vertical Schottky diodes
WIN enables fully integrated single-chip GaAs solutions for 5G RF front-end modules
Tags: WIN Semiconductors
Visit: www.eumweek.com

Visit: www.winfoundry.com