14 March 2019
Aixtron full-year revenue up 40% organically to €268.8m
For fourth-quarter 2018, deposition equipment maker Aixtron SE of Herzogenrath, near Aachen, Germany has reported revenue of €87.9m, up 39% on €63.4m last quarter and up 62.5% on €54.1m a year ago.
Full-year revenue was €268.8m in 2018 (exceeding the guidance of €260m). This is up 17% on €230.4m in 2017, or up 40% organically excluding the €38.8m from the atomic layer deposition/chemical vapor deposition (ALD/CVD) product line (for memory chip applications) that was divested at the end of 2017.
In particular, equipment revenue grew by 18% from €188m to €221.8m (remaining 82% of total revenue), while sales of spare parts & services rose by 11% from €42.4m to €47.1m (18% of total revenue).
Of equipment revenue, the proportion from metal-organic chemical vapor deposition (MOCVD) systems for manufacturing optoelectronic components (i.e. lasers and solar, excluding LEDs) rebounded from 25% to 66% (growing from €47.8m to €147m), driven by strong demand for vertical-cavity surface-emitting lasers (VCSELs). Despite continuing strong demand for red-orange-yellow (ROY) LEDs and specialty LEDs, systems for producing LEDs fell from 42% to just 16% (from €79.1m to €36m). Systems for manufacturing power electronics fell from 11% to 8% (from €20.4m to €18.2m).
Asian revenue has hence fallen back from 75% of total revenue in 2017 to 54% in 2018 (falling by 16% from €172.3m to €144.7m, including China falling from €89.8m to €72.6m and Korea from €44.3m to €11.9m, while Taiwan rose from €25.7m to €43.2m). Meanwhile, the Americas rebounded from 12% to 20% (rising by 89% from €28.9m to €54.4m) and Europe rose from 13% to 26% (up by 139% from €29.2m to €69.7m).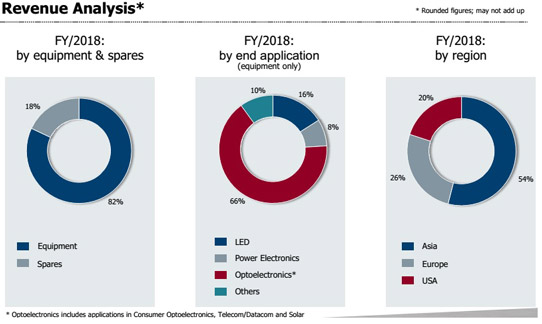 Aixtron's cost structure was further improved in 2018. Cost of sales developed at a lower rate than sales year-on-year, being cut by 3% from €156.4m in 2017 to €151.2m in 2018 (falling from 68% to 56% of revenue). As well as also being positively impacted by a stronger US dollar against the Euro in second-half 2018, this was due mainly to better capacity utilization in production and a more favorable product mix with higher margins.
Gross margin improved significantly from 32% in 2017 to 44% in 2018 (above the guidance of 40%). Quarterly gross margin rose from 39% a year ago and 44% in Q3 to 45% in Q4/2018.
Operating expenses (OpEx) rose at a slower rate than sales growth, by 10% from €69.1m in 2017 to €76.2m in 2018. This is due mainly to R&D spending being cut by 24% from €68.8m to €52.2m (from 30% of revenue in 2017 to just 19% in 2018). Most recently, quarterly OpEx has been cut from €20.7m in Q3 to €18.6m in Q4/2018.
After operating losses of €26.7m in 2015 and €21.4m in 2016, the operating result (EBIT) has multiplied from a small profit of €4.9m (EBIT operating margin of 2% of revenue) in 2017 to €41.5m (15% margin) in 2018 (exceeding the €35-40m guidance). Quarterly EBIT has risen from €8.7m in Q3 to €20.8m in Q4/2018.
The financial development in 2018 was characterized by the profitable operating performance following the successful turnaround of the company. "2018 was an excellent year for Aixtron. We not only achieved the planned positive result from operating activities, but even slightly exceeded our forecast," notes president Dr Bernd Schulte.
Net profit has hence risen from €6.5m (3% of revenue) in 2017 to €45.9m (17% of revenue) in 2018 (higher than the operating result due to €9.5m in capitalization of deferred taxes). Most recently, quarterly net profit has risen from €11.7m in Q3 to €18.2m in Q4/2018.
Quarterly free cash flow has fallen from €11.2m in Q3 to €5.8m in Q4/2018. Full-year free cash flow was €4.4m in 2018 (down from €91.4m in 2017) due mainly to contractually agreed payments in Q1/2018 from the sale of the ALD/CVD product line. However, this is still a big improvement on free cash outflow of -€42.9m in 2016 and -€57.3m in 2015.
Total cash flow was €17.2m in 2018, down from €86.4m in 2017 but matching guidance. However, quarterly total cash flow has risen from €10.7m in Q3 to €18.3m in Q4/2018. Capital expenditure (CapEx) for 2018 totalled €9.2m (cut from €9.7m in 2017). Cash and cash equivalents including short-term financial investments hence grew during Q4/2018 from €246.5m to €263.7m.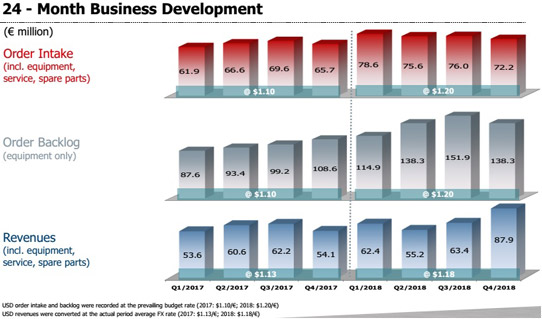 Despite falling by 5% from €76m in Q3/2018, order intake of €72.2m in Q4 was up 10% on €65.7m a year ago. Full-year order intake hence rose to €302.5m (exceeding the guidance of €290m), up 15% on €263.6m in 2017 (despite the latter including €35.6m from the since divested ALD/CVD business). Equipment order backlog rose to €138.3m, down from €151.9m at the end of Q3/2018 but up 27% on €108.6m a year ago.
With the signing in late October of a joint venture agreement with South Korean organic light-emitting diode (OLED) supplier IRUJA Co Ltd (involving IRUJA contributing its automation & handling technology for display applications plus some cash, as well as acquiring up to 20% of Aixtron's OVPD-based OLED subsidiary APEVA over the next few years), Aixtron has completed the strategic adaptation of its structure that was initiated in 2017, which has led to sustainable profitability, says Schulte.
"With the entry of our joint venture partner IRUJA into our OLED subsidiary APEVA, we have successfully completed the realignment of Aixtron," says president Dr Felix Grawert. "After completion of the test phase for the Gen2 OLED system before the end of this year, we expect a first customer order for a large-scale production chamber," he adds.
For 2019, Aixtron expects only stable to slightly growing revenue compared with 2018. At the moment, customers are reluctant to make investment decisions in optoelectronics, and the further development for the second-half 2019 is difficult to anticipate, notes the firm. Both are also influenced by the currently prevailing critical view of the development of the global economy, in particular due to global trade conflicts and political uncertainties, it adds. However, management is optimistic about the long-term prospects regarding MOCVD system demand for the production of lasers for 3D sensing or optical data transmission as well as for LED applications. Regarding demand for systems for producing power components based on the wide-bandgap materials silicon carbide (SiC) and gallium nitride (GaN), management expects an increasing contribution to revenue in 2019 compared with 2018.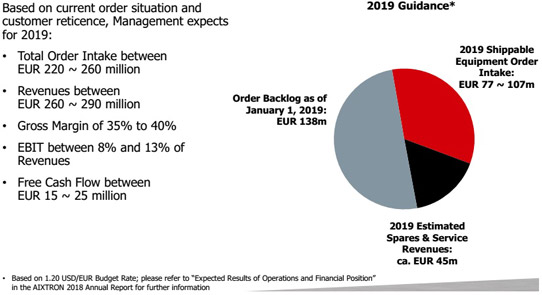 Based on the current corporate structure, an assessment of the order situation and the internal budgeted exchange rate of 1.20$/€, for full-year 2019 Aixtron expects order intake of €220-260m (taking into account both the uncertain development in second-half 2019 as well as the difficulty in quantifying the size of any possible OLED order).
Based on the equipment order backlog of €138.3m on 1 January joined by an estimated €77-107m of order intake shippable during 2019 plus an estimated €45m of spares & services revenue, for 2019 Aixtron expects revenue of €260-290m.
Also, many of the MOCVD systems ordered in 2018 for ROY LED production will be delivered in 2019, leading to lower-margin revenue in 2019. Aixtron hence expects gross margin of 35-40% and EBIT operating margin of 8-13% of revenue (both down on 2018). Free cash flow should be €15-25m. "The sustainably profitable development shows that we have done our homework thoroughly in the realignment of the company," Schulte says. Expectations fully include the results of Aixtron's APEVA subsidiary, including all necessary investments to continue the development of OLED activities.
"We are focusing on the sustainable development of the Aixtron Group, for example by tapping into the growth potential in power electronics," notes Grawert. "With a strong order intake and order backlog, we expect a clearly positive operating result for the current year."
Aixtron's revenue grows 15% in Q3, driven by power electronics, laser and ROY LED applications
Aixtron's orders rise 20% year-on-year in first-half 2018, driven by MOCVD systems for lasers and red-orange-yellow LEDs
Aixtron's orders grow 20% in Q1, driven by MOCVD systems for lasers in 3D sensing and datacoms
Aixtron returned to annual profit in 2017 after sale of ALD/CVD product line
Visit:  www.aixtron.com