2 May 2018
Aixtron's orders grow 20% in Q1, driven by MOCVD systems for lasers in 3D sensing and datacoms
© Semiconductor Today Magazine / Juno PublishiPicture: Disco's DAL7440 KABRA laser saw.
For first-quarter 2018, deposition equipment maker Aixtron SE of Herzogenrath, near Aachen, Germany has reported revenue of €62.4m, up 15% on €54.1m last quarter and 16% on €53.6m a year ago, driven by demand for metal-organic chemical vapor deposition (MOCVD) systems for making lasers such as vertical-cavity surface-emitting lasers (VCSELs) in 3D sensing as well as lasers for optical datacom applications.
Specifically, equipment revenue was €50.8m, up 17% on €43.5m a year ago (remaining 81% of total revenue). Meanwhile, revenue from spare parts & services has grown by 15% from €10.1m a year ago to €11.6m.
Of equipment revenue, the proportion from MOCVD systems for the production of LEDs (including red-orange-yellow 'ROY' and specialty LEDs) shrank from 52% to just 14% (after selling its inventory of AIX R6 gallium nitride blue LED systems) and Power Electronics fell from 19% to 11%, while systems for the production of Optoelectronics (excluding LEDs) have proliferated from just 7% to 70%. This is after systems for Silicon comprised 20% of revenue a year ago, including the atomic layer deposition/chemical vapor deposition (ALD/CVD) product line for memory chip production (based at US subsidiary Aixtron Inc in Sunnyvale, CA, USA) that was sold to Eugene Technology Inc in November.
Correspondingly, on a regional basis, Asia has plummeted from 81% of revenue a year ago to 46% (from €43.5m to €29m), while Europe has leapt from just 8% to 38% (€4.1m to €23.5m) and the USA from 11% to 16% (€6m to €9.9m).
"We have gone through a successful reorientation of our technology portfolio, and now have a durable and focused product portfolio in growth areas, such as the specialty LEDs, lasers and power electronics," says president Dr Bernd Schulte.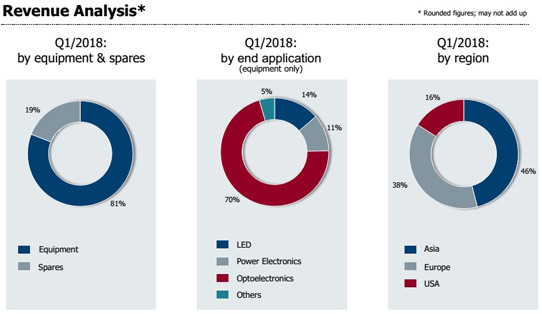 Reflecting the absence of low-margin AIX R6 MOCVD system sales that the firm had in Q1/2017, gross margin has risen further, from 25% a year ago and 39% last quarter to a higher-than-expected 43%, driven by the increased sales and favorable product mix.
Operating expenses were €18.9m (30% of revenue), down by 28% from €26.4m (49% of revenue) a year ago. This is due mainly to R&D spending falling from €19.7m to €13.7m after divesting the memory business and the new developments in III-V-on-silicon (TFOS) for microprocessor logic in order to focus development of optoelectronics, power electronics and LEDs.
As a result of the increased sales volume, increased margins and lower operating expenses, the operating result (EBIT) was €7.9m (13% or revenue), an improvement compared with -€12.7m a year ago. This was down from €24.4m last quarter, but that included €23.9m profit from the disposal of the ALD/CVD product line.
Compared with €34.6m a year ago and €13.6m last quarter, operating cash flow was -€21.1m, due mainly to agreed payments related to the sale of the ALD/CVD product line in Q4/2017. Capital expenditure (CapEx) was €1.6m (up from €1.1m a year ago). Total cash flow was -€23.2m. During the quarter, cash and cash equivalents (including cash deposits with a maturity of more than 90 days) hence fell from €246.5m to €223.2m.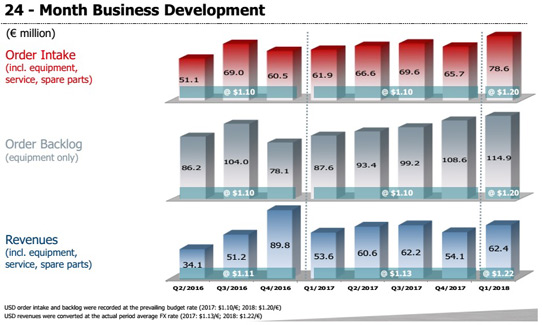 Order intake (including spare parts and service) was a higher-than-expected €78.6m, up 20% on €65.7m last quarter and 27% on €61.9m a year ago, due mainly to continued strong demand for MOCVD systems for laser applications such as VCSELs for 3D sensor technology or optical data transmission.
Equipment order backlog at the end of March was €114.9m, up 6% on €108.6m last quarter and 31% on €87.6m a year ago. "This gives us a good visibility for the remainder of the year," says VP of finance & administration Charles Russell.
"Q1/2018 was Aixtron's strongest first quarter since 2011, with further increases in revenues and order intake, as well as in order backlog," says Schulte.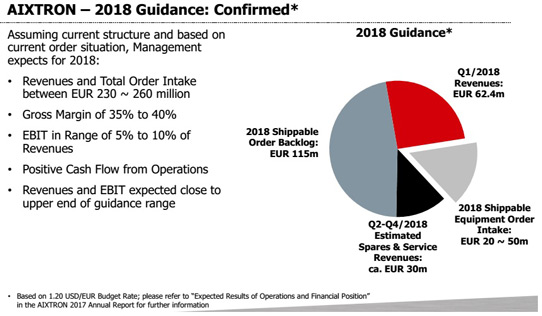 Hence, based on Q1's revenue of €62.4m supplemented by 2018-shippable order backlog of €115m, a forecasted €20-50m of further 2018-shippable equipment order intake plus a forecasted €30m of spares & service revenue (at an internal budgeted exchange rate of $/€1.20 for 2018), Aixtron confirms its full-year 2018 guidance (given in February) for revenue and order intake of €230-260m. This is up 20-35% on 2017's revenue of €191.6m for continuing business (excluding €38.8m from the divested ALD/CVD product line in 2017). Gross margin is expected to be 35-40% and EBIT 5-10% of revenue. However, based on Q1/2018 and internal assessment of the development of demand, both revenue and EBIT are now expected to be close to the upper end of the guidance ranges. Operating cash flow for 2018 is expected to be positive, but lower than 2017's €70.1m.
Aixtron says that it remains committed to its annual goal of a sustainable return to profitability for 2018, supported by continued market demand for MOCVD equipment for VCSEL and other laser applications, red-orange-yellow and specialty LEDs, and power electronics, as well as higher margins and lower costs.
"Aixtron benefits from the robust demand for MOCVD tools as well as the successful realignment of its product portfolio," comments Schulte.
"Aixtron currently has a very good market position in laser and specialty LED applications as well as promising equipment technologies for power electronics," believes president Dr Felix Grawert. "With our comprehensive roadmap for technology and product development, we ensure the continuous, market-oriented further development of our MOCVD systems for optoelectronics as well as the improvement of our offering in the field of power electronics," he adds. In the medium term, we expect power electronics based on gallium nitride and silicon carbide in particular to offer significant potential for the company."
Aixtron returned to annual profit in 2017 after sale of ALD/CVD product line
Aixtron enters net profit in Q3, aided by increased MOCVD demand for laser applications
CFIUS approves sale of Aixtron's ALD/CVD memory product line to South Korea's Eugene Technology
Aixtron's first-half revenue doubles year-on-year
Aixtron's Q1 revenue and order intake rise strongly year-on-year
Visit: www.aixtron.com