8 March 2018
Aixtron returned to annual profit in 2017 after sale of ALD/CVD product line
© Semiconductor Today Magazine / Juno PublishiPicture: Disco's DAL7440 KABRA laser saw.
For fourth-quarter 2017, deposition equipment maker Aixtron SE of Herzogenrath, near Aachen, Germany has reported revenue of €54.1m, down 13% on €62.2m last quarter and 39.8% on €89.8m a year ago.
However, full-year revenue was still €230.4m, up 17% on 2016's €196.5m, and slightly exceeding the guidance of €220-230m. "2017 was a good year for Aixtron, with revenues and orders at the best levels since 2011," notes VP of finance & administration Charles Russell.
In particular, equipment revenue grew by 21% from €155.7m to €188m (rising from 79% to 82% of total revenue), while sales of spare parts & services rose by just 4% from €40.8m to €42.4m (falling from 21% to 18% of total revenue).
Of equipment revenue, the proportion from metal-organic chemical vapor deposition (MOCVD) systems for the production of LEDs (including red-orange-yellow 'ROY' and specialty LEDs) rebounded from just 26% in 2016 to 42% in 2017 (€79.1m, including €25m from the sale of AIX R6 gallium nitride blue LED systems out of inventory). Meanwhile, systems for the production of Optoelectronics (excluding LEDs) fell from 34% to 25% (€47.8m), Power Electronics from 14% to 11% (€20.4m), and Silicon from 21% to 19% (including €38.8m from the atomic layer deposition/chemical vapor deposition (ALD/CVD) product line for memory chip production).
Asian revenue rebounded further from 65% of total revenue in 2016 to 75% in 2017 (growing from €128m to €172.3m, including China growing from €64.8m to €89.8m, Korea from €27.1m to €44.3m, and Taiwan from €22m to €25.7m). Meanwhile, the Americas fell further from 19% to 12% (shrinking from €37.7m to €28.9m) and Europe fell from 16% to 13% (from €30.8m to €29.2m).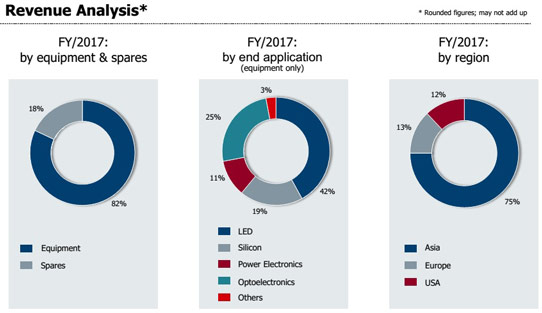 Gross margin improved from 29% in 2016 to 32% in 2017, due mainly to a better product mix in second-half 2017 after the first half suffered from low-margin sales of AIX R6 MOCVD systems as well as write-downs from freezing activities in both III-V-on-silicon (TFOS) for micro-processor logic (on 300mm wafers) and in thin-film encapsulation (TFE) since Aixtron's organic light-emitting diode (OLED) activity is now focused on organic vapor phase deposition (OVPD) technology for depositing different layers of the OLED stack. "In the second half of the year gross margin reached 39-40%, reflecting the increasing sales of better-margin product based on the growing value of high-performance solutions to our customers," says president Dr Bernd Schulte. Quarterly gross margin was 39% in Q4/2017, down slightly from 40% in Q3/2017 but up from just 33% a year ago. "This is free from the effects of desired margin sales from the old or sold product lines and is therefore indicative of what we should expect in the coming periods," says Russell.
Full-year operating expenses (OpEx) have been cut from €77.7m (40% of revenue) in 2016 to €69.1m (30% of revenue) in 2017. This included restructuring effects of €12.8m from the freezing of TFOS and TFE activities as well as positive effects from the sale of the atomic layer deposition/chemical vapor deposition (ALD/CVD) product line for memory chip applications (based at US subsidiary Aixtron Inc in Sunnyvale, CA, USA) to Eugene Technology Inc (a US subsidiary of South Korea-based Eugene Technology Co Ltd) on 15 November (contributing to total Aixtron staffing falling during 2017 from 705 to 581).
In particular, selling expenses for 2017 were €10.2m, down from 2016's €13.8m (although that included the closure of a demonstration facility in China). General & administrative (G&A) expenses were steady at €17.1m. R&D costs rose by 28% from €53.9m (27% of revenue) in 2016 to €68.8m (30% of revenue) in 2017, although this includes TFOS and TFE write-downs in first-half 2017 as well as increased spending on R&D particularly for OLED applications.
The full-year operating result (earnings before interest and taxes, EBIT) improved from -€21.4m in 2016 to +€4.9m (2% of revenue) in 2017. However, this was largely due to quarterly EBIT rising from just €4.6m in Q3 to €24.4m in Q4 after a profit of €23.9m on disposal of the ALD/CVD product line. This brought Aixtron into profit a year earlier than planned.
Driven mainly by the improved profitability, reductions in working capital, and the sale of the ALD/CVD product line, full-year operating cash flow has improved from -€37.7m in 2016 to +€70.1m in 2017. Quarterly operating cash flow was €13.6m in Q4, up from €13.2m in Q3.
Free cash flow in 2017 was €91.4m (compared with -€42.9m in 2016), albeit due mainly to €51m from the sale of the ALD/CVD product line plus €39m in collections from the high level of receivables at the end of 2016. Capital expenditure (CapEx) for 2017 totaled €9.7m (up from €5.3m in 2016). Cash and cash equivalents (including cash deposits with a maturity of more than 90 days) hence rose to €246.5m at the end of December, up €86.4m from €160.1m on a year previously.
Aixtron notes that, following its thwarted takeover by China's Grand Chip Investment in December 2016, its return to profit in 2017 was achieved by implementing a strategic reorientation of its technology portfolio to focus on product lines that either are profitable or promise to generate a significant return on investment in the near term, while freezing its activities in TFOS and TFE and divesting its ALD/CVD product line.
Also, on 1 October 2017 the subsidiary APEVA SE – to which Aixtron transferred its OVPD OLED deposition technology – officially began operation. Gen1 OLED systems are in operation at an Asian display manufacturer's R&D line. "Gen2 system will soon be installed at the customer facility in order to qualify the technology for mass production," says Schulte. "In addition, we are in discussions with several companies about a partnership [joint venture] in the OLED sector, which should complement APEVA's range of products and services," adds president Dr Felix Grawert.
For 2018, Aixtron continues to pursue its goal of returning to sustainable profitability in its operating business. This is supported by the continuing market demand, particularly in MOCVD systems for the production of vertical-cavity surface-emitting lasers (VCSELs) for 3D sensing and other lasers for applications such as optical communications, as well as ROY and specialty LEDs. In the medium term, the adoption of power electronics components based on the wide-bandgap materials gallium nitride (GaN) and silicon carbide (SiC) opens up further potential.
"With Aixtron's comprehensive reorientation, the company is focusing on its core MOCVD equipment business," says Grawert. "We supply systems in various end-markets with attractive growth potential and expect to be clearly profitable again in our operating business in 2018. This is supported by a strong order backlog and stable order intake," he adds.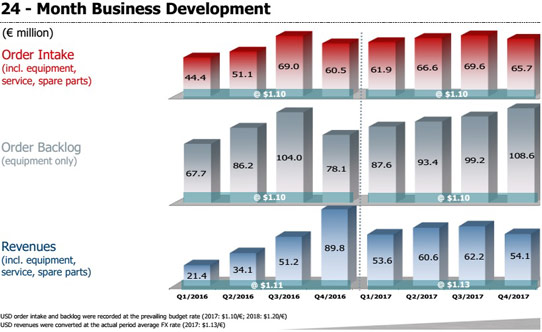 Driven by the continued demand for MOCVD systems for the production of VCSELs and other lasers, ROY and specialty LEDs as well as power electronics and memory chips, order intake (including spare parts and service) in 2017 amounted to a better-than-expected €263.8m, up 17% on €225.1m in 2016. "The strong orders reflect improved conditions particularly in our two core markets MOCVD for LEDs and for optoelectronics," says Russell. Quarterly orders were €65.7m, down on €69.6m last quarter but up on €60.5m a year ago.
Equipment order backlog as of end-December 2017 rose to €108.6m, up 9% from €99.2m at end-September 2017 and up 39% year-on-year from €78.1m at end-December 2016.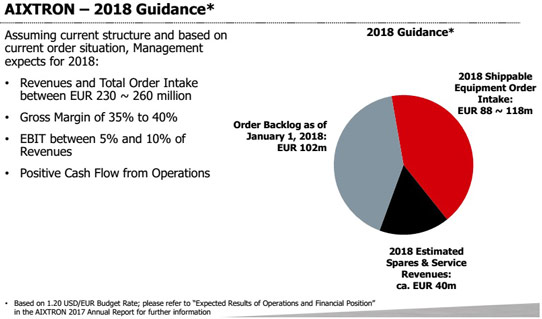 Based on equipment order backlog of €102m on 1 January (at an internal budgeted exchange rate of $/€1.20 for 2018) joined by an estimated €88-118m of order intake shippable during 2018 plus an estimated €40m of spares & services revenue, for 2018 Aixtron expects both revenues and total orders of €230-260m, up 20-35% on 2017's €191.6m for continuing business (excluding €38.8m from the divested ALD/CVD product line in 2017). Due mainly to the larger proportion of higher-margin products, Aixtron expects gross margin to rise to 35-40% and EBIT to rise to 5-10% of revenue. OpEx should be about €75m. Operating cash flow should be positive, but lower than in 2017 (which included €51m from selling the ALD/CVD product line) due partly to including €11.7m for settling liabilities towards third parties of the ALD/CVD business. These expectations for 2018 include the results of subsidiary APEVA with all planned investments to further develop OLED activities.
Aixtron enters net profit in Q3, aided by increased MOCVD demand for laser applications
CFIUS approves sale of Aixtron's ALD/CVD memory product line to South Korea's Eugene Technology
Aixtron's first-half revenue doubles year-on-year
Aixtron to sell ALD/CVD memory product line to US subsidiary of South Korea's Eugene Technology
Aixtron's Q1 revenue and order intake rise strongly year-on-year
Aixtron's returns profit in Q4, helping full-year 2016 revenue recover to 2015 level
China's Grand Chip abandons acquisition of Aixtron
Tags: Aixtron MOCVD PECVD OLEDs ALD CVD
Visit: www.aixtron.com